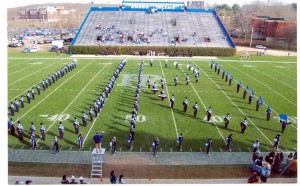 As reported  here and here, the University of Rhode Island has spent close to $500,000 on repairs of its president's tuition-funded home, which is among the fringe benefits that come with the president's job, such as a car, an expense account, and club dues.
Excessive administrative spending is but one of many results of nationwide privatization of public education.  Particularly distressing in this context is the root cause of this development, namely the decline of the fraction of the URI budget that comes from the Rhode Island general revenue, a percentage that has dropped from 60% in the 1950s to less than 10% currently.
Privatization has resulted in an explosive increase in tuition.  As documented in Trends in College Pricing 2012, a College Board publication, inflation-adjusted tuition and fees have increased by more than 350% since the early 1980s. Excessive spending on presidential perks, in particular at URI, typifies a litany of deplorable policy decisions that coddle university and college administrators at the expense of public education.  Recent examples are:
URI's previous president got a 14 percent raise in 2008-09.
The previous president cashed in with a retirement incentive of 40 percent of the $183,000 "faculty" salary he earned after his resignation as president ot the university, a salary which happens to roughly 80 percent higher than full professor faculty salaries.

 URI's current president started his tenure at a salary about 25 percent above what his predecessor ever made.

A study performed for the American Association of University Professors found that between 2004 and 2010 spending on instruction and academic support at URI declined by 10 percent; while spending on administration increased by 25 percent.
In spite of all of these excesses and skewed priorities, the almost defunct Board of Governors of Higher Education routinely justifies the tuition hikes and administrative bloat it authorizes by claiming concern for quality education.  Of course, the ultimate responsibility for the neglect of public education rests with the Rhode Island legislature.  The legislature and its serial enablers of the Board of Governors for Higher Education, which is tasked with oversight of public higher education, are duty bound to uphold the Rhode Island Constitution and pertinent statutes.  Their collective failure in this respect is monumental. As Sections I and IV of Article 12 of the Rhode Island Constitution state:

[…] it shall be the duty of the general assembly to promote public schools and public libraries, and to adopt all means which it may deem necessary and proper to secure to the people the advantages and opportunities of education and public library services.

The general assembly shall make all necessary provisions by law for carrying this article into effect. It shall not divert said money or fund from the aforesaid uses, nor borrow, appropriate, or use the same, or any part thereof, for any other purpose, under any pretence whatsoever.
 Title XVI [of the Rhode Island General Laws] adds:
 […] the purpose of continuing and maintaining the University of Rhode Island […] in order to promote the liberal and practical education of the industrial classes in the pursuit and the professions of life […]
Privatization is sold as if it provides better services at a lower cost to the taxpayer, but the real costs to Rhode Island and its citizens are hidden.  In education, chief among those hidden costs are increased tuition and interest on student loans, which exclusively benefits moneylenders.  The examples listed above are just a small sample of the many symptoms that characterize a society unable to keep in check the predatory impulses of a small minority.
Privatization of Higher Ed Violates State Constitution

,