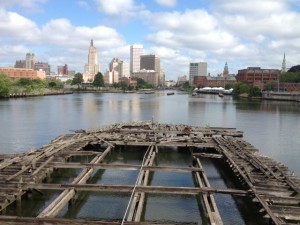 Shaping up to be one of the most interested races for a State House seat, author and RI Future contributor Mark Binder's challenge to Gordon Fox is attracting a lot of media attention. Fox is more conservative than we'd like in a Speaker and Binder is less experienced than we'd like in a state Representative. Practically speaking, when factoring in both of these circumstances, the House of Representatives probably moves to the right if Binder were to upset Fox.
No one sums up progressive values quite like the Dalai Lama. The Associated Press quotes him as saying, "We are part of humanity. Their problem is my problem. Their happiness is my happiness. We have to look to the interests of others.'' You can read Steve Ahlquist's story here.
Another well-spoken progressive, Bruce Springsteen, says conservatives will try to suppress people's right to vote in an attempt to get Obama out of the White House. The Boss writes in his endorsement of Obama, "I believe that all of us, of whatever views, should be opposing these anti-voter, anti-citizen efforts."
Speaking of being a well-spoken progressive, the Dalai Lama does not curse when speaking in public.
Abel Collins' campaign must be fuming about this one: the two WPRI employees most responsible for keeping him out of its debate both got promotions this week, according to RIPR.
Here's an interesting dilemma: should convicted murderers be allowed to vote? Pressing the issue this campaign season is Rhode Island's most despised child killer Michael Woodmansee, reports the ProJo.
Tiverton Patch picked up on my post about Justin Katz being too religious and right-wing to be relevant on the Tiverton School Committee.
From the files of etch-a-sketch politics, former Providence Journal reporter Steve Peoples, who now covers the Romney campaign for the Associated Press, writes, "On immigration, taxes and women's issues, Mitt Romney is abandoning his "severely conservative" talk of the Republican primary season and moving sharply to the political center as he looks to sway on-the-fence voters in the campaign's final three weeks."
And this, from the files of deregulation is dangerous.
Today in 1988, sit-com "Roseanne" debuts on ABC. Was this the last time a TV show featured a working class family? Here's how History.com describes the half-hour comedy:
The show was considered groundbreaking for its realistic portrayal of a working-class family and the issues they faced. Barr's portrayal of the loud, abrasive, overweight Roseanne Conner was a sharp contrast to the stereotypical TV housewife in the mold of Leave It to Beaver's June Cleaver and The Brady Bunch's Carol Brady.
Progress Report: Binder vs. Fox; Dalai Lama, Springsteen on Progressive Values; WPRI Debate Snobs Get Promoted

,