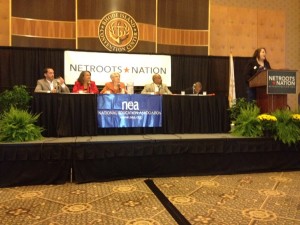 It's hard to imagine a more news-packed day than yesterday for Rhode Island: 38 Studios filed for bankruptcy and is now being investigated by state and federal authorities, the House passed the state budget plan after a marathon session that ended just after 3:30 this morning and, oh yeah, thousands of progressive activists were downtown for Netroots Nation.
First the budget … as expected floor amendments were raised to add income tax increases to the richest Rhode Islanders and, also as expected, they failed. We were hoping leadership would have at least allowed for a floor debate on this important issue for Rhode Islanders, but to no avail.
At around midnight, Occupy Providence marched from the Convention Center to the State House to make its feelings known on the proposal. "We successfully mic checked the legislature on the Cimini tax bill and got thrown out," one activist texted to me late last night. "We made quite a scene." House Speaker Gordon Fox had the protesters removed for the Gallery.
For a complete recap on all the budget activity, check out Dave Pepin's highly entertaining live blog of the session.
Meanwhile, while the state's press corp was preparing to cover said budget proceedings, Curt Schilling and 38 Studios were filing for bankruptcy … one has to wonder if company officials planned the filing for such an otherwise already busy news cycle but more likely it was related to the state and federal investigation into the fiasco.
The Projo had a nice story on the opening day of Netroots in which it didn't use scare quotes to diminish the term progressive.
Even more interesting though is that the Projo also runs a pretty fair editorial on the Wisconsin recall in which they laud the results, but add, "We say that while realizing that the ultimate aim of some anti-union folks is to leave corporations with untrammeled power. They would do this by severely limiting the rights of working people to band together to further their economic goals. They'd attack unions by, for example, imposing the sort of "right-to-work" laws that are common — not coincidentally — in the lowest-wage parts of America." Must be Ed Achorn had the day off.