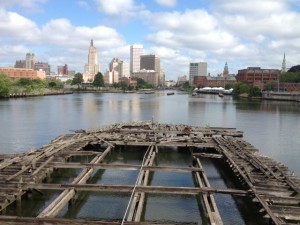 Happy birthday, Providence Biltmore – the downtown landmark celebrates its 90th birthday tonight. Flo Jonic of RINPR marks the occasion with a great feature story, reporting, among other gems, "In the early years, the chef grew vegetables and raised roosting hens on the roof of the hotel so that celebrities like Benny Goodman could have fresh eggs."
Speaking of downtown landmarks, the New York Times had another RI story yesterday … this one, also written by a Rhode Islander (Elizabeth Abbott is a former Projo reporter and URI prof), was about the Superman building and the Arcade.
And still speaking of downtown landmarks, we're looking forward to the movie about the history of Haven Brothers. It could be argued that the mobile diner is the godfather of the food truck trend sweeping Providence and other hip cities across the country. (Portland will be so mad if we try to lay claim to starting the food truck trend!)
One more point about downtown: whenever I walk around the Jewelry District I can't help thinking of how lucky the city is that it gets to double the size of its urban core. It's a once-in-a-millennium opportunity that every other city in America would relish. It's too bad local headlines are so often about our local cities literally starving to death because there are worlds of potential within them.
Education Commissioner Deborah Gist, the godmother of charter schools in Rhode Island, is recommending closing a Providence charter school for failing to educate its students in math. The school was originally named Textron/Chamber of Commerce Academy. So much for the private sector being able to do it better…
Speaking of the 1 percent, we're also looking forward to Ted Nesi's new show "Executive Suite." It's sure to be interesting and insightful even if the name implies it won't be geared to the working class.
Nurses picketed outside Women and Infants yesterday to call attention to the hospital's use of temporary (read: scab) nurses.
Good, bad or indifferent, the Pew Center says Rhode Island has been the most aggressive (read: conservative) in paring back public sector pensions.