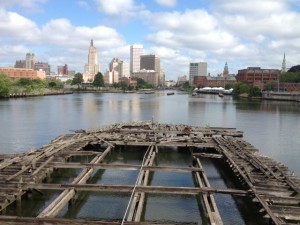 David Cicilline is surging. After comfortably beating Anthony Gemma in the primary it now looks like he's comfortably ahead of his conservative challenger Brendan Doherty in polls commissioned by the Democrats. While Republicans, Buddy Cianci and other Cicilline detractors might dismiss partisan polls, it still gives the incumbent an advantage and shows momentum.
We'll have more on Cicilline's surge later this morning…
State House Republicans say they will join in the controversy in Cranston about what to call elementary school dances in Cranston (your tax dollars at work?). But this isn't a partisan issue, as evidenced by David Cicilline's position on the issue.
Three cheers to Gina Raimondo for using her political capital to advocate for affordable housing funding. She's pushing for voters to approve a $25 million bond to build and/or rehab 600 units. This is an important economic development opportunity for Rhode Island. Raimondo is a longtime board member of Crossroads Rhode Island and her commitment to homeless people is admirable.
That said, we find it distasteful that she claims pension cuts made it possible to go out to bond for affordable housing. Of course, rolling back tax cuts for the wealthy – a move she objects to – would have a similar effect on the state's finances. And, it would do so without pitting the working class against itself. In other words, she is arguing that the state needed to take money from teachers and state workers in order to give it to the homeless. Her logic reminds me of railroad tycoon Jay Gould's famous quote: "I can hire one half of the working class to kill the other half."
Speaking of class warfare, the Providence Journal weighs in on Mitt Romney's 47 percent comment with a pretty muddled editorial. More to the point is what the New York Times editorial board said about it: "It turns out that Mitt Romney was right. There is class warfare being waged in the 2012 campaign. It is Mr. Romney who is waging it, not President Obama, and he's stood the whole idea on its head." Even the conservative-leaning Washington Post editorial board writes: "Mr. Romney suggests that Obama voters are such sheep that there is no point in reaching out to them — and that their support for Democrats is purely selfish. The possibility that principles might motivate their political behavior does not even occur to Mr. Romney. It's a demeaning, as well as inaccurate, view of the people he hopes to lead."
GOP strategists think Romney's comments could give Democrats the inside track for control of the Senate. And Democrats think it could put them in position to take back the House. Unlike moderate Republican candidates from across the nation, RI GOP candidates have been completely silent on the controversy.
Update: Brendan Doherty has distanced himself from the comments, according to the ProJo.
Happy birthday, Upton Sinclair. The author of "The Jungle" was born today in 1878.
And today in 173, Billie Jean King beat Bobby Riggs in tennis.