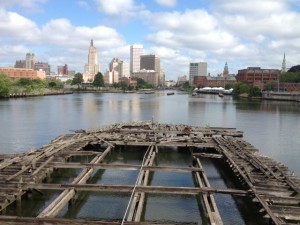 Three cheers for Shaw's Market in Barrington. The grocery store told the Town Council last night that it would voluntarily stop using plastic bags, according to Linda Borg of the Providence Journal. I can only assume they decided doing right by the town and the environment wasn't as much of a hardship on their business as some said not using plastic bags would be…
While the local media did a great job of seeing through Anthony Gemma's over-sized claims of voter fraud, it's important to remember that most Rhode Islanders won't read much of our work. So yes, the Associated Press did a fantastic story refuting much of what Gemma put forth. But many more people will hear John DePetro on the radio today falsely claim that the the volunteers and staff are leaving the Cicilline campaign as a result of Gemmapalooza.
Both Gemma and DePetro are bad for Rhode Island because they put themselves ahead of the residents and the truth. Together, they are a toxic combination that should not be tolerated, either by the people or by WPRO.
And speaking of people who should shut up, and the AP, for that matter, the local bureau digs deep into how the state and 38 Studios both did their part to ensure the company wouldn't succeed. It's interesting to note that the old job creator logic failed miserably for former Governor Don Carcieri … but will RI remember this next time a smooth talking CEO from the private sector says they know how to make government work better???
Speaking of Schilling, Ed Fitzpatrick writes a nice column about how lawyer (and former North East Independent reporter) John Pincince managed to do what few other in the local media have managed to do: get Schilling on record.
And speaking of making stuff work better … there were many good ideas kicked around about how to make rail service work better in the Ocean State and along the northeast corridor at a meeting yesterday afternoon. One great idea: have Amtrak stop at Green Airport.
In important swing states, a poll shows more people trust Obama to handle Medicare than they do Romney.
Why do people trust Obama more than Romney? Because the GOP is moving even farther to the right. In fact, the Republican platform this year is more right-wing than ever before.
Today in 1927, America's most famous anarchists Sacco and Vanzetti were executed. They are said to have murdered a man in Braintree, Mass, though the trial was at the very least controversial.
And today in 1970, Lou Reed plays his last show with the Velvet Underground.