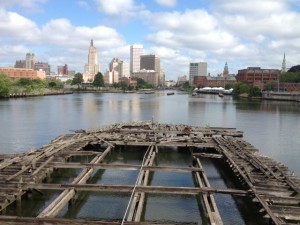 Nothing riles up the suburbs quite like when local leaders threaten to outsource the janitorial staff at the schools, and such seems the case in North Kingstown where 26 custodians are in danger of losing their jobs to privatization. Don't believe me? Just check out the comments on North Kingstown Patch this morning: one side claims the unions have finally gotten their just desserts, while the other pleads for the working class people whose lives could be forever affected.
But there is more than just an emotional argument to be made for the custodians – and keeping their jobs in-house has an economic benefit, as well. Privatization rarely proves cheaper in the long run, even though the companies that compete in this market often offer sweetheart deals in the first few contracts … but if school committee members don't like negotiating with organized labor, wait 'till they have to sit across the table from a big, out-of-state corporation that has no interest in North Kingstown other than how much money it can extract from the community. The School Committee would be wise to give this idea a second thought … perhaps the rally tonight at 6pm outside the district headquarters will give them reason to.
Congressman David Cicilline is raising more money than his Republican challenger, reports Ted Nesi … but Brendan Doherty could likely get enough SuperPAC money to offset Cicilline's advantage on the ground. This isn't all bad news for ex-mayor … whatever misgivings Rhode Islanders have about how Cicilline left Providence could easily be usurped by our disdain of seeing Corporate America try to influence the outcome of a local race.
Maryellen Butke is stepping down from her position with RI-CAN, a group that uses corporate money to lobby for more charter schools in Rhode Island.
According to an Associated Press study of voter ID laws in Indiana and Georgia, the controversial law may well suppress more votes than they protect. "The numbers suggest that the legitimate votes rejected by the laws are far more numerous than are the cases of fraud that advocates of the rules say they are trying to prevent. Thousands more votes could be in jeopardy for this November, when more states with larger populations are looking to have similar rules in place."