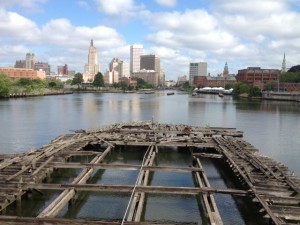 Yesterday we wrote that David Cicilline would try to make the CD1 campaign about policy issues while challenger Brendan Doherty would try to avoid any discussion of policy and instead smear his opponent by painting him as being untrustworthy. But on Brendan's very first attempt at this the Projo Politifact team gives him a "mostly false" grade for one of his accusations.
Doherty was on RIPR's Political Roundtable this morning … listen for how his conservative credentials would serve as an impediment to Rhode Island if he were elected to Congress.
Rhode Island makes it harder for local foster children to access higher education opportunities than do neighboring states. It's examples like this that make me shake my head when people think the road to economic salvation is more opportunities for the most fortunate among us rather than the least fortunate.
What's going on in North Kingstown? First the School Committee fires its janitors and now the Town Council is accused of overworking firefighters. Locals say the political system in this middle class suburb has completely broken down.
Aaron Regunberg weighs in on Jon Brien's loss for GoLocal, as well as what the primary says about RI-CAN's effect on local politics. Progressives aren't happy that the campaign for more charter schools in Rhode Island is being financed in part by Big Pharma, among other corporate interests.
Speaking of GoLocal, Dan McGowan wastes no time before previewing the general election for State House races.
Here's the film trailer that's helped to incite the current anti-American unrest in the Muslim world.  According to NPR, "Secretary of State Hillary Clinton is walking a fine line, distancing herself and the State Department as far as possible from the video that has sparked anger and protests across the Arab world."
Here's Senator Whitehouse's statement on the situation: "The attack on our embassy in Libya was a tragedy, and I join President Obama and Secretary Clinton in condemning the actions of those involved. Now, as our nation comes together to honor the service of Ambassador Stevens and his colleagues, it is fitting that we make special note of the sacrifices made by our men and women serving abroad.  As the son of a career diplomat, I know that these brave individuals put public service and patriotism above all else.  I am honored to help recognize their service and sacrifice in this dark hour."
Today in 1966, the United States launched Operation Attleboro in Vietnam. Named after the neighboring Massachusetts town, it's a historically significant military decision because the search and destroy tactic is emblematic of the United States' missteps in the conflict.