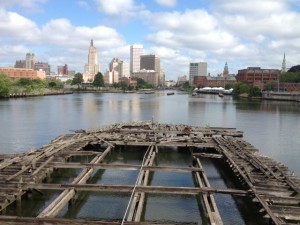 Woonsocket's diabolical DINO duo of Jon Brien and Lisa Baldelli-Hunt can claim all they want that their decision to block a city-saving supplemental tax bill wasn't aimed in part at injuring organized labor, but both have drawn local firefighters as opponents in the upcoming election. My early-season prediction: Brien will win reelection and Baldelli-Hunt won't. She made a lot of powerful enemies during the last legislative session…
Banks should not blight communities in order to boost their profits, and Providence – to its credit – is looking at ways to legislatively prevent them from doing so. "Called the vacant property registration ordinance, it would require out-of-state banks and all owners of vacant properties to register their properties and name a local agent who is responsible for internal and external maintenance and security," reports the Projo.
More innovative government being practiced in Providence: Mayor Taveras is launching a neighborhood competition to see which one can recycle the most … the competition, he says, will raise revenue AND clean up the environment.
Good work by Ted Nesi to pick up on the diss Wall Street Journal editor David Wessel and NPR delved out to legendary Rhode Island journalist Jack White … the situation reminds me that history is written by the winners: would the error have gone unnoticed if the victim was Jim Taricani, who works for WJAR, a TV station without its own blogger?
So Mitt Romney likes individual mandates for Massachusetts AND Israel … seems the only times he doesn't like them is when they benefit all Americans, which is an interesting way to run for president we think…
Anybody want to buy a lighthouse in Wickford?