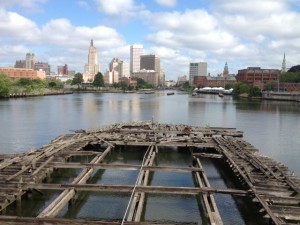 Gary Sasse, the architect of the Carcieri tax cuts, is thinking of running for Bob Watson's seat in the state House of Representatives, reports my alma mater EG Patch … Sasse is smart and likable but his singular obsession on finance makes his focus a little narrow to serve the General Assembly well.  We've already seen where Sasse's fiscal policies did for the state when he worked for Carcieri – together, they cut the state workforce at the expense of the state's pension obligation and lowered taxes on the wealthy at the expense of the struggling cities. Balancing a budget on paper is one thing but governing is something altogether different and more complex.
Besides, the rumor around town is that he has already told the local GOP committee he won't run, and if he does he won't even campaign … I hear local conservatives are practically begging him to throw his hat in the ring because they know what a strong candidate Democrat Mark Schwager is. The doctor and former town councilor is a fiscal moderate and a social liberal.
Big time congrats goes to my good buddy Matt Allen, of WPRO, who broke the story of Caleb Chafee having a party at the family farm in Exeter. Matt is one of the hardest workers and deepest thinkers in the local marketplace of ideas – and while I don't agree with him philosophically, he's got a moral compass that would make George Washington jealous. That said, we are talking about an 18-year-old having a party. This isn't a scandal, it's called growing up.
Best line of the week: "There's no crying in taxpayer-backed video game development!"
The Projo the other day misreported the percentage of teens who get pregnant in Central Falls. The actual number is 8.5 percent but the Journal reported that it was 85 percent. 85 percent? How could anyone think  – for even a brief moment – that almost 9 out of 10 teens in Central Falls get pregnant? Would this mistake have been made if we were talking about Barrington?
Did you know you can see giant wild sea turtles in Barrington this time of year? Me neither.
Here's what Rhode Island's constant complaining about taxes has gotten the Ocean State: the worst bridges in the country and the second worst roads next to, yep, Alaska … I've never been the Last Frontier, but I'm pretty sure I want our public infrastructure to be way better than it is there.
More on RI public sector pensions, this time The Economist weighs in.