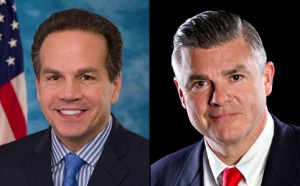 It seems in David Cicilline's struggle to retain his seat in Congress  that it will all come down to the so-called 'get out the vote' efforts, or the boots on the ground in the final few days of the campaign, according to a new WPRI poll that shows Cicilline with a 1 point lead over challenger Brendan Doherty. Check out WPRI's really, really cool interactive pie chart on their poll results here.
The biggest surprise in the Cicilline v. Doherty slugfest is not that the race has seemingly tightened (polls typically do as the election gets closer), it's that Doherty has perhaps managed match Anthony Gemma in ugly and untrue campaign accusations. While Doherty hides behind the fact that some of the worst ads weren't paid for by him, he's certainly setting the tone. Case in point: his campaign defends the often untrue TV ads by saying that Cicilline started it by going negative first. That's uncommon integrity in the same way that Oliver Twist possessed uncommon wealth … uncommon because of its dearth. Ian Donnis has a nice piece on the new dueling Doherty ads that hit the airwaves yesterday.
Also from the WPRI poll: Senator Sheldon Whitehouse and Congressman Jim Langevin are still expected to walk to victory over their Republican challengers. "…the big thing is Collins is drawing 9% of the vote," pollster Joe Fleming told WPRI. "That is very high for an independent, and in turn Michael Riley can't get any traction going because Mr. Collins is drawing votes away from people who don't like Jim Langevin."
Remember on Sunday when I postulated that hurricanes could be called progressive natural disasters because they disproportionately affect the rich and powerful? Well RIPR reports that both our US Senators and the governor are still without power. I don't know where Sheldon lives, but Jack Reed lives in a coastal neighborhood in Jamestown and Gov. Chafee lives right on the water in the Potowomut area of Warwick. According to folks I know in both those neighborhoods, Reed got power back yesterday around 3 p.m. and Chafee's street is still without electricity.
Think about this for one second: as a result of little more than simply growing up in an affluent suburb, I know neighbors – and friends – of probably most of our state officials … journalists who grew up in West Warwick and Central Falls don't enjoy that advantage. It's just one of the many benefits of being raised around affluence. And why if society doesn't work hard to level the playing field between the haves and the have-nots it can quickly spiral out of control, as we're currently witnessing…
Speaking of the socioeconomic divide in America and why we should mitigate against it, consider this NPR headline: Want To Be Rich? Be Lucky, Know The Right People.
And speaking of Hurricane Sandy, every storm that the Ocean Mist survives is a gift. Check out this ProJo photo and you'll see why. We won't have this iconic beach bar forever, so enjoy it while you can…
And speaking of the Ocean Mist, I know a guy who used to moonlight as a bouncer there so he could make ends meet while working for a municipal public works department during the day. He worked throughout the dangerous winds and even more dangerous surf of Sandy all Monday and into early Tuesday morning, just so the world would be a bit safer for the rest of us. This is the kind of person who is getting their retirement security slashed by pension reformers.
If you think gerrymandering has become too political, read about how Nevada became the 36th state, which happened today in 1864.
Happy Halloween, everybody … did you know you can watch the horror classic "The Texas Chainsaw Massacre" on YouTube?