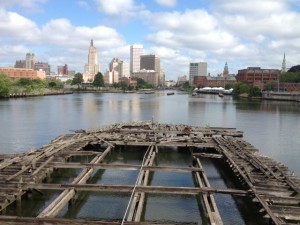 Jim Langevin easily won the head-to-head between he and Mike Riley last night. He did so by giving coherent answers and not being rude. As out-of-step as Riley's policy proposals may be – he talked about returning to the gold, or an index-based, standard for valuing currency – his big political baggage will prove to be his attitude: he seems to have a hard time being nice to people. Even debate moderators!
The ProJo's Randal Edgar summed up the contest between the two nicely by comparing it to the Cicilline/Doherty campaign. "The 2nd Congressional District candidates weren't as combative or argumentative as their 1st District counterparts, but their responses during the WPRI-TV encounter showed that the political divide between them is just as wide."
You can watch the full 60-minute debate here.
The news magnet that is the Cranston School Committee will consider at a meeting tonight outsourcing bus driver jobs in order to save money on buses, says Cranston Patch.
Speaking of downward spirals … the worse the economy gets, the more the state makes in gambling revenue.
David Cicilline is not only a GoLocal "mindsetter," he's also a US congressman … this morning he writes about how to bring manufacturing back to Rhode Island.
The Journal should be commended for its Publick Occurrences forum, the second in the series on the local economy is tonight. In fact, there's been lots of good brainstorming about RI's economic woes – which is great. While actions always speak louder than words, words can often incite actions … let's hope that's the case here in Rhode Island.
And here's an economic development idea from a Wickford art gallery owner that would foster the kind of growth everyone in Rhode Island wants.
We're the seventh most energy-efficient state! Last year we were fifth…
The state is trying to make it harder for patients to get access to medical marijuana, but the ACLU is trying to stop it from doing so.
Great headline, terrible story: Billionaire CEO Threatens To Fire Employees If Obama Wins.
Great editorial on the right wing conspiracy culture. By the way, the left isn't immune from this either.
Today in 1917, improv jazz legend Thelonious Monk is born.
And in 1957, President Eisenhower apologizes to an African diplomat who was denied a meal based on his race at a Delaware restaurant … the rest of the black community is still waiting for its apology…