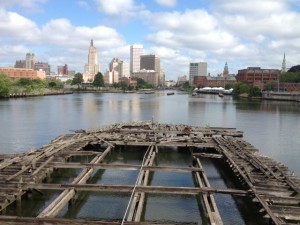 It's interesting to note that the potential piece of 2013 legislation that has garnered the most media attention since the election isn't tax equity, marriage equality or pay day lending reform … it's marijuana legalization. At least it's the only bill to get front page ProJo coverage so far (though I think that story's lede is somewhere shy of being unbiased).
Now, some may argue that making it easier to get high isn't as important as dealing with our struggling economy, but there's no shortage of economic benefits to legalization.
Rhode Island spends $40 million annually on marijuana prohibition – that's more than it costs to have a state legislature! The public defenders office estimates legalization would save taxpayers $12 million a year (read this letter the office sent legislators last session for more info). Does anyone want to argue that Rhode Islanders needs to punish pot smokers more than we need $12 million?
John Loughlin tells RIPR that the local GOP needs to move left on the same day that party chairman Mark Zaccaria said he won't seek another term. I speculated last night that he might make a good fit to replace Zaccaria. GoLocal adds some to it this morning.
Scott MacKay has more on why the Republican party is in such dire straights: because they don't even seem to realize just how out of touch they have become with the American people. (Plus he throws in an awesome Catamount reference).
Dan McGowan also chimed in on the tales of woe for the local GOP. Some quick thoughts on his piece: Demographics were not the problem for the GOP, nor was it the national brand. To put it real simply, Rhode Islanders are on balance more liberal than Republicans.
ICYMI, you may also want to read Sam Howard's thoughts on this topic that we ran earlier this week.
The lesson in the dispute between Providence and the labor union that represents municipal workers there: get it in writing.
Prudence Island is a really bad place for wildlife rabies, ecologically speaking.
NPR: "Want to help Sandy victims? Send cash not clothes."
Thanks to my buddy Bill Felkner for sending along this article about the Westerly firewood dealer who charges more for a cord to Obama voters than Romney supporters. The lesson here for wood stove owners might be to get your supply in the spring, when both political and economic forces drive the price down…