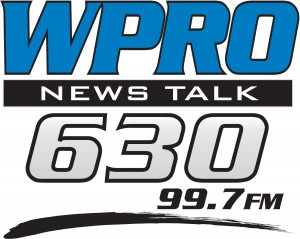 Most interesting thing happening today: Matt Allen, Ian Donnis, Ted Nesi and Josh Fenton debate the influence of talk radio in Rhode Island politics at RIC.
While radio may not seem like the medium of the future, as the most passive way to consume content I think it is likely to rise again. And even in its current state of decline, it is still amazingly influential in the local marketplace of ideas. Rhode Island Public Radio, for which Donnis works, would do well to offer a thoughtful alternative to the four angry conservative men featured on WPRO, one of which is Matt Allen.
Or better yet, RI Future should. If anyone is interested in podcasting a progressive call-in talk show, please contact me!
Speaking of Ian Donnis, RIPR's political reporter got a nice scoop yesterday about Gov. Chafee being open to giving the Narragansett Indian Tribe a larger slice of the state's gambling take.
It's hard to root for Tom Brady when you read about the golden boy quarterback offering sympathy to Jamie Dimon, the CEO of JP Morgan Chase who if isn't one of the architects of our financial collapse was at the very least one of the pilots steering the ship. (Dissing Tom Brady will make me extremely unpopular with one of my favorite group of readers: the kids I grew up with, who by and large worship at both the Church of Brady AND the Church of Wall Street.)
I love this balmy Indian summer weather as much as anyone, but make no mistake that these unseasonably warm October days mean treacherous things for our climate. In fact, according to today's ProJo, it's probably already destroyed the state's lobster population. "We think there is a clear climate drive to this," a DEM marine scientist told the ProJo as to why there are virtually no more lobsters in Narragansett Bay.
The East Providence municipal budget heads to the state-appointed Budget Commission, but not without some controversy.  A city councilor says a budget commissioner of "purposely pitted special education against the general education population and the community at large," according to East Providence Patch.
Political Wire collects some interesting reactions to last night's debate. You can read mine here. GoLocal asks the local experts what they thought of the big presidential debate last night. (Thanks for including me on this list!)
My favorite moment of the debate: Romney's "binders full of women" moment.
Don't forget: the Dalai Lama is in Providence today, our de facto religion correspondent Steve Ahlquist reports.