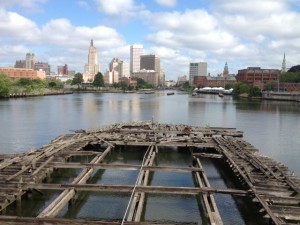 Rhode Island sure is a complex place politically. While Pat Smith points out this morning that we're the only state with a Democratic-leaning legislature and without a Republican governor to pass a voter ID bill, the New York Times points out we're also the only state without a Democratic governor to move forward with a health care exchange. Does this make us moderate, or erratic?
Brendan Doherty's job for the next couple weeks is to make himself seem more liberal than he actually is, or would be if elected to Congress … and while the conservative, Mitt Romney-supporting, former state cop will begin that effort in earnest today, Dan McGowan offers a great primer on the differences between him and Democratic incumbent David Cicilline.
While Ted Nesi points out that Mike Riley, the Ayn Rand acolyte running against Congressman Jim Langevin got mentioned on a national blog, Politfact points out that his message to Rhode Islanders, as evidenced by his radio ads, has included "a gross distortion of very common practices allowed by law and the U.S. Constitution." Going back to the gold standard may well be a good idea (according to the Ron Pauls and John Galts of the world) but if anyone's acting like a "shark" in the campaign for second congressional it's Riley.
If you're keeping score at home: House Speaker Gordon Fox isn't supporting Rep. Jon Brien's write-in campaign but conservative Woonsocket state Senator Marc Cote is … most interesting that both Reps. Lisa Baldelli-Hunt and Bob Phillips decided not to weigh in.
As we predicted on Twitter a few weeks back, there's a new Patch site coming to Rhode Island real soon … Smithfield Patch will launch within a week, according to Johnston Patch editor Joe Hutnak who will edit both sites.
Here's a scary statistic: 28 percent of Rhode Island parolees return to the ACI within a year. Are we letting bad people out of jail or do we need to do a better job of rehabilitating prisoners and helping them readjust to life on the outside?
Please, for the sake of our state's reputation across the country, let this rumor not be true. Buddy Cianci is smart, well-connected and a very nice guy … but Rhode Island needs him back in office like we need another 38 Studios fiasco…
How bad is economic inequality getting in America? This from NPR: "One recent study suggests the income gap might be greater today than even during colonial times – even when you account for slavery."