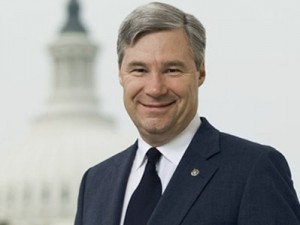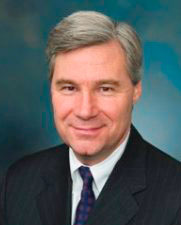 Rhode Island progressives, indeed progressives across the country, should be happy Sheldon Whitehouse is a Senator. Not only has he sponsored the Buffett Rule tax code improvement that would prevent millionaires from evading paying taxes on their earnings, he's also leading the fight against Super PACs and the Citizen United SCOTUS decision, the Projo reports this morning.
"Whitehouse leads a group of liberal Senate Democrats who hope to fashion a strategy for their party to enact legislation to blunt — or at least cast more light on — the effects of a 2010 Supreme Court ruling that has changed the campaign-finance landscape," reports the john Mulligan, the Projo's Washington correspondent. "The decision, known as Citizens United, has given rise to a new brand of political action committee — super PACs in campaign parlance — that are not bound by earlier limits on campaign contributions."
…Speaking of congressional politics, Anthony Gemma, who is still considering challenging David Cicilline in the Democratic primary for the CD1 seat in Congress, pens an op-ed in the Projo today about his plan to create jobs in Rhode Island.
His plan includes making Rhode Island "the center of America's $125 billion wellness industry; encouraging additional job growth in the rapidly expanding health-care industry," tax credits for green construction and making a higher education more attainable for the local workforce. It all sounds good, but making it happen is another story.
Here at Rhode Island's Future, we're still waiting with baited breath to see if David Segal will also throw his hat into the ring.
…On the state level, Ian Donnis of RINPR, reports that Gov. Chafee "is expected later this week to unveil his long-anticipated bill for aiding municipalities." Here's hoping that bill does more than just give mayors a tool to cut pensions, as that really isn't the core problem for struggling cities and towns – despite the MSM constantly beating that drum.
…Providence Business News has a great comprehensive look at the fits and starts of Rhode Island's proposed medical marijuana compassion centers. TurnTo10.com, on the other hand, has a story about a patient in the program who was robbed of two ounces of medicine. It's worth noting that if patients could get their prescriptions filled at a dispensary, it would make it much harder for them to being targeted by the criminal elements associated with cannabis.
…Congrats go out this morning to two RI Future contributors. The first is Paula Hodges, who heads up the Rhode Island offices for Planned Parenthood. GoLocalProv gives her their power player treatment this morning. The other goes to Samuel Howard, one of our most prolific writers, who got a nice compliment from Ted Nesi, WPRI's blogger-in-chief, in a recent post.