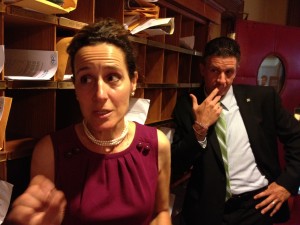 Forget receivership – for now, anyway – the Woonsocket School Committee has another idea to solve the struggling city's budget crisis. The school committee last night voted 4 to 1 to have the state take over the local schools. More later this morning on what happens next.
The Projo has two great pieces of journalism on Woonsocket today … one is a profile of the now-infamous Rep. Lisa Baldelli-Hunt (link not available from Projo) and another on how the local talk radio network factors into Woonsocket politics.
Ted Nesi falls into the old trap of tacitly blaming municipal financial issues on employee benefit packages. He rightly points out that the city failed to put some $6 million into its pension fund since 2008, but neglects to mention that during that same time period Woonsocket lost more than $12 million in state aid.
That said, Woonsocket's main fiscal problem is a $10 million school deficit, ostensibly a result of bad book keeping by management. But watch how hard the media and others try to pin the problem on public sector unions … maybe Tim White can even find a lazy city employee to follow around.
For the time being, though, Woonsocket teachers won't lose their jobs. But definitely stay tuned…
Rhode Island is now the 15th state to decriminalize possession of less than an ounce of pot, a move that will save tens of millions of dollars.
No one made covering the State House more entertaining than Bob Watson. He will be missed…
One question every reporter in Rhode Island should be asking: how did Bank RI make a loan to 38 Studios based on collateral that didn't exist yet.
Johnson & Johnson is dropping out of ALEC, joining Walmart, Coke, Pepsi and the Bill and Melina Gates Foundation and about 20 other well-known major corporations.
Need a little summer? Then watch this video of a deer smelling me I got last night where the Maskerchugg River flows into Greenwich Cove: