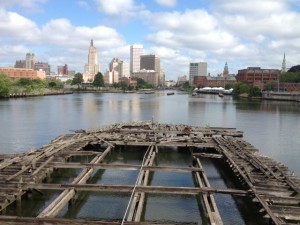 The Woonsocket City Council meets tonight to work on the spending plan it must send to the state-appointed budget commission prior to July 1. The two entities have about two weeks to shave about $6 million from city expenses … if they can't do it the next option would likely be a receiver.
Not only do we have one of the worst economies in the country, we also seem to suffer the most from the effects of global warming. Remember this when temperatures climb into the high 90's this week … no state is getting hotter faster than Rhode Island.
And yet another way the state is failing: Rhode Island remains one of a handful of states without a permanent stream of money for low-income housing, something state officials and homeless advocates say is a critical part of implementing a homeless prevention plan adopted by the state earlier this year."
Rest in peace Rodney King, whose brutal beating by the LA Police in 1991 ended the the Cosby Show era of race relations in the United States … he also raised the most important question of a generation when he famously said during the 1992 LA riots after police were aquitted, "Can we all get along?"
The answer to his question is because of people like Sheriff Joe Arpaio.
The Projo lauds state Sen. Dawson Hodgson for making it to an East Greenwich fundraiser when the Senate was in recess on the last night of the legislative session … me too, considering the event was organized by my brother Matt Plain. While Mattie and me have pretty much never agreed on anything political in our lives, the rest of our family is as bipartisan as they come – our sister, mom and step-dad all attended both the RI Future/Working RI Netroots cocktail party just a few nights before they attended the Hodgson fundraiser.