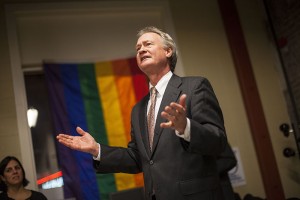 The following is an open letter to Governor Chafee from the Rhode Island Progressive Democrats in response to the renewal of Education Commissioner Deborah Gist's contract:
Working teachers have gotten together with their leadership to give voice to the despair they feel over the conditions in the Rhode Island schools.  One of those troubling conditions is the Commissioner's insistence that the state use a standardized test to determine whether students can graduate from high school and as a means of evaluating teachers—the very test that is specifically designed for improving curriculum and specifically not intended for the purposes for which Commissioner Gist plans to use it.  Many educational researchers have repeatedly indicated that the testing frenzy is totally counterproductive to the educational outcomes of students and the data is proving that. Even Bill Gates, who, since 2009, put enormous resources behind qualitative testing, has recently made a turnaround in his thinking. Students need to be engaged and involved in their educational experience. Superintendent Gist's fixation with testing is the antithesis of engagement. It is factory model teaching.
Another area of concern is Superintendent Gist's background and alliances within the country's educational community.  Her association with Eli Broad, for example, indicates an agenda that has more to do with the privatization of schools and the elimination of teachers' unions than it does with providing an excellent education for Rhode Island students.
Finally, the teachers have repeatedly spoken about the condescending attitude the superintendent exhibits toward teachers, parents, and students in almost every interaction. Her unwillingness to even entertain suggestions is becoming legendary throughout the state.
Every public meeting has become a vote of no confidence in the Superintendent of Rhode Island Schools from teachers around the state. This same sentiment was reflected in the Providence Journal poll where readers were invited to vote on whether Supt. Gist's contract should be renewed and an overwhelming number voted no. The unions commissioned another poll where 400 plus teachers were called at random with the same negative results. Do you really think that extending the contract of a Superintendent who is held in such low regard by the very people she is supposed to lead is in the best interest of the children of Rhode Island?
When you were first running for governor, the Rhode Island Progressive Democrats invited you to participate in a formal endorsement process where members of our Executive Board asked you and other candidates—each separately—to comment on issues facing Rhode Island. One segment was devoted to education and, when you were asked about your thoughts on charter schools and mayoral academies, you were eloquent in your response about how you were not a big fan of these kinds of schools because they drew money away from the regular public schools, and you felt the state should be committed to an equally high quality education for all our students rather than special treatment for a relatively small segment of the population.  As an organization we were delighted with that response and highlighted it in messages we sent out to our whole organization urging them to not only vote for you but to actively work for your election. We remain mystified by what appears to be a complete reversal from the ideals you espoused during that interview. If the commitment to Rhode Island school children you expressed when running for governor was authentic, it is hard to understand the basis for a decision to renew Deborah Gist's contract.
At the very least, we would urge you to delay the vote and assign a member of your staff to do some investigation into the latest research on high-stakes testing and the people who are backing these type of "reform " efforts, what their agenda really is, and exactly who stands to gain from such "innovations."  You certainly need to have that information before making an informed decision, and you need to share it with the Board of Education so they too have all the facts before their vote.
In last month's poll, 60% of working teachers said they would not take up teaching if they had to do it over again.  That is a heart-breaking statistic.  We have no greater resource than the intelligence and skills of our youth and no better guardians than their teachers.  Please show them the respect and the care they deserve.