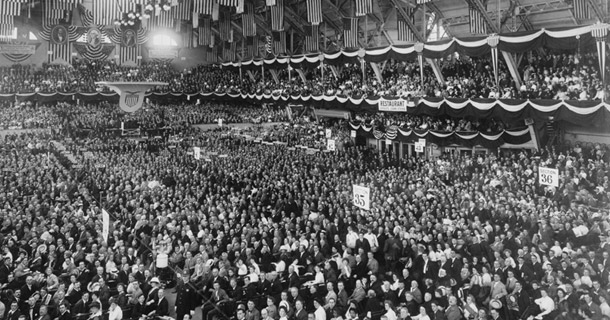 When I was on David Segal's campaign for Democratic nominee for Congressman in 2010, I went to to the WPRI primary debate. One of the things Mr. Segal suggested as a way to combat the recession was investing in infrastructure. Months later, after the election, the Providence Journal published an editorial saying essentially that actually, that was a good idea, that the economic return on investments in infrastructure is relatively high (I'm unfortunately unable to find the editorial). But roads and train tracks and sewer lines aren't glamorous things, so we forget the sinews of our nation, leaving them to fall into neglect and disrepair.
Likewise, progressive infrastructure is lacking in the state. Drinking Liberally, while a great place to meet and talk to great folks, is not progressive infrastructure. At best, it is the foundations of progressive infrastructure, a ground where ideas meet and mix, where initiatives are discussed. That's fine. Those places need to exist. But they shouldn't be the only places.
Perhaps it is the inevitable result of decades of near single-party rule in Rhode Island. Democrats, fat after years of legislative dominance, don't fear other parties or insurgent challengers. Leadership exerts its control, with opportunists sneaking in and building their own power bases in the party apparatus. While not a perfectly dominant system, it largely functions. The factionalism of the past has diminished. If the only organization is the Party, then insurgents aren't a threat. They lack organization, one that can rival the strength of the Democratic Party.
What seems to me to happen instead is that people largely fall in line behind particular people. We hitch our wagons to rising stars (although some people remain on the wagon long after the star has faded). As these power players jockey for position, our differences surface not only because of particular ideological positions, but also because of clashes of personality between our chosen candidates. It is a mercenary engagement at best, as otherwise dedicated people put aside their ideals for expedience and influence.
Rhode Island Democrats have been unabashed in their disdain for voters. For 72 years the Party has held legislative power in the state. This disdain for voters leads to ridiculous situations, such as the redistricting debacle aimed at protecting loyal incumbents and punishing opposition members in the General Assembly and in the cities and towns. Or the disenfranchisement of left-leaning voters in the name of preventing "fraud". Or the knee-jerk "rally round the flag" response to abysmal poll numbers for U.S. Congressman David Cicilline, whose pride may very well be jeopardizing the Party's control of Rhode Island's Congressional District 1. Or the ability of the Party to run a candidate for Governor who not only ran like a Republican, but talked like one too. They paid for that misstep in the last election. They aim to make another in this one.
Where have progressive leaders been throughout this? Silent. Unable to vocalize their positions, even when such positions are the will of the people of the state, unless leadership also agrees. Then, a bone. They benefit from the same systems; the lack of uncompetitiveness in their districts or wards, the rise of personality-based politics, etc. They require the Party, so they go along to get along.
When Mr. Segal's campaign ended, it stopped. The students like myself returned to our schools, those who were graduated returned to the labor force. They scattered. And there an opportunity was missed. We never formalized the ties that bound us. We believed in a progressive vision of Rhode Island. Over 11000 primary voters did, too. That is a sizable number in a state our size. Where was the infrastructure for that? What happened to it? That should be enough to make any candidate think twice about failing to court them. Our people vote. We need to build a progressive infrastructure to force the progressive agenda this state needs to the fore.
A progressive infrastructure is organized voting and activism and media. It's saying that together, you are stronger than when you are alone. If you vote progressively, and talk to your friends, and that's it, what did you do? When the politician you voted for gets into power, they won't know you. They won't consult with you. You didn't tell them the reason you voted for them. Is it any mystery then why they ignore what you want? You're just an anonymous voter. As far as they're concerned, you wholly endorse all of their policies.
This is the first goal of any progressive infrastructure: organizing voters. When politicians must court voters, they have to, at least partially, implement those voters' preferred policies or face a candidate who will. Since we can identify the vague issues that matter to voters via polling, we fail to organize voters, instead attempting to "motivate" them. Thus we forget that in a democracy, the loudest yellers get heard first. Those who never speak up get nothing. Rhode Islanders want specific things, but unless they're willing to articulate those desires before they vote, they aren't guaranteed of getting them.
Which comes to the second part: activism. The story goes that when Lyndon Johnson had spent a lot of political capital to get the Civil Rights Act passed, Martin Luther King, Jr. knew there was still a need for the Voting Rights Act, and he went to President Johnson and told him as much. And Johnson said, so the story goes, "I wanna do it. Now make me do it." This is something we need to realize, politicians will disappoint. They have egos on them, but they have to, because their jobs demand it of them. You have to be active, you have to apply pressure. Without pressure, they'll do whatever they want, no matter how irrelevant it is.
Part of that pressure is where media steps in. I want to be clear here: I think all media is subjective to some extent. To me, there is no truly objective news story besides no news story at all; if only because it comes from a human being. It's important you know a reporter's bias, but a biased reporter is not the same as a bad reporter. If a story's facts are verifiable, if the writer address their own biases and doesn't attempt to deceive you, then that's good reporting. Media steers the conversation. It exposes problems, it relays the information that matters to its audience and, most importantly to this discussion, it identifies that audience.
As progressives, we have a duty to organize as voters, to pressure our politicians, and to support and foster our media. If you're a progressive and you're happy with what you have right now, then you're insulated and isolated. We can no longer rely on a candidate-to-candidate strategy of advancing to our goals, because it's not working.