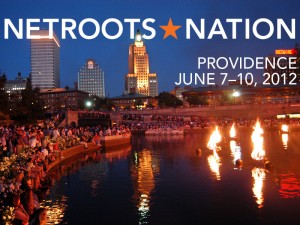 "Providence seems to be bucking the bad economy," according to a recent editorial in the Providence Journal. The Projo bases this finding on the fact that June hotel occupancy in the Capital City was the highest its been since October of 2004.
"An important barometer of economic activity, hotel-occupancy rates, topped 80 percent in the capital city for the first time since 2004, a very encouraging bit of news," according to the Journal.
And who does Rhode Island have to thank for this economic shot in the arm that was lauded by the anti-progressive Providence Journal editorial page and the business-friendly Providence Business News: progressives, of course!
The big draw to Providence in June, of course, was none other than Netroots Nation, the annual conference of progressive activists and journalists that descended on the city early in the month and the event brought thousands from across the nation right to downtown Providence for a weekend that not only packed the hotels but also the bars, restaurants and other downtown amenities.
"Netroots Nation certainly played a role in Providence having its highest hotel occupancy since 2004 but its economic impact is only part of its importance," said Martha Sheridan, president and CEO of the Providence Warwick Convention and Visitors Bureau. "In addition to boosting the local economy, it shined a national media spotlight on Providence and gave the city a prominent role in the political discourse that was taking place."
I know many of the Netroots attendees were just as happy with Providence as the city was to have them here spending their money, so maybe we should make this a bigger part of the solution to Rhode Island's economic woes: invite progressive people here to spend their money. Really, it'll work. Progressives love Providence. The mix of old and new architecture, its hip restaurant and nightlife scene and all the other great things going on in and around the city make for the perfect progressive playground.
In fact, maybe we've been going about this economic development thing entirely wrong … maybe instead of cow towing to those who want the state to slash taxes, we should start catering more to those who know the value of the public sector and all the good it grants on society.
Special thanks to Providence Mayor Angel Taveras and Senator Sheldon Whitehouse, who worked hard to bring Netroots to Providence. If not for their efforts, not only would I probably not have gone but, more importantly, the city wouldn't have got this nice summertime economic boost.