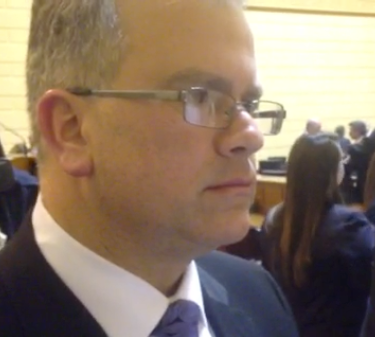 Nobody likes losing, but sometimes, no matter what you do, no matter how hard you try or what new strategies you develop, you go into a battle knowing the numbers are against you, and that you are going to lose. There is nothing wrong with losing, but there are different ways to lose.
You can lose gracefully and with style, summoning all your energy to give it your all, demonstrating to your opponent and those watching that you are a worthy foe and someone to be taken seriously. In doing so you can demonstrate the best of the values you hold dear, earning the begrudging respect of even your most diametrical opponents.
Or you can lose in a tawdry muddle of confused loyalties, last minute defections, 11th hour deal making and factional splits.
As Nick Mattiello consolidated his power in the Rhode Island House of Representatives over the last weekend, making deals with conservative Democrats and even more conservative Republicans, progressive hopes were hung on the "progressive caucus" that seemed to coalesce around Representative Michael Marcello, but Marcello lost big.
In the end Mattiello had ten times the votes.
Progressives lost this battle, and perhaps it was inevitable, because the numbers were not there, but progressives lost something else as well. They lost the chance to define the battle they were losing. In the scramble to find an alternative to the business-as-usual Mattiello, progressives rallied around "anyone but Mattiello" which became a statement about what we were opposed to, but not about what we believe in. We did not rally around our values.
Representative Teresa Tanzi got me thinking about his when she told Bob Plain that she abstained from voting for either side "because there were no women on the new leadership team[s]" put forward by Mattiello or Marcello. The leadership teams under consideration were primarily made up of white heterosexual male lawyers. From a conservative like Mattiello this is to be expected. Diversity is not the conservative value that hegemonic patriarchy is, after all.
But for a so-called progressive caucus to ignore diversity, one of its key values, is more than an oversight, it's an abandonment of principle and a violation of our values for the sake of petty politics. Worse, this was done for the sake of a battle that was destined to be lost. Putting aside values for a moment, from a pragmatic, political point of view, this was a terrible strategy. Why on earth would anyone sacrifice their values when they know they are going to lose?
If anything, all the losing side in any conflict has is its principles and values. When faced with defeat, the losing side should seek to differentiate itself as much as possible from its opponent. For instance, Mattiello might have had the numbers and the political grease to unify a coalition in his favor, but the progressive caucus could have staked out the moral high ground, demonstrating not only diversity but other core values such as women's autonomy, the rights of workers to not be exploited, concerns over the environment, and a call for getting special interests out of politics.
When Representative Joseph Trillo snidely suggested that Marcello's camp was more concerned with plastic bag bans than improving the economy, the progressive caucus should have been able to say that they are interested in protecting Rhode Island's most valuable asset, the environment. While Mattiello dismissed calls for reforming PayDay Loans as unimportant, the progressive caucus should have asked why the economic exploitation of our at risk poor and the shuffling of millions of dollars from poor urban communities to out of state corporations is beneath his notice. A progressive caucus might suggest that Mattiello's longtime mentor and supporter, former Speaker Bill Murphy, who gets a pretty hefty paycheck every year from PayDay loan companies, might be exerting an influence. And what about the plague of gun violence? Most Rhode Islanders want an assault weapon ban, but not Bill Murphy, who also lobbies for the NRA, and not his hand-picked successor Mattiello, or any of Mattiello's new committee chair appointees, all of whom seem to have perfect scores from the NRA.
If the progressive caucus wants to mean anything and if the progressive caucus wants to effect real change in the General Assembly as opposed to the appearance of change currently on offer from Mattiello and friends, then it will have to figure out how to stand up for progressive values, explain the importance of progressive values, and demonstrate those values in a way Rhode Islanders can understand.
Doing this will not only make the progressive caucus look good when they lose, it will give them the best chance they have to win.