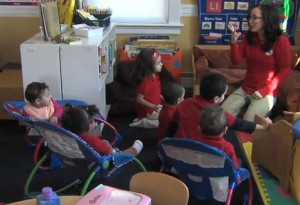 Rhode Island gets a good glimpse of how the Providence Journal editorial page may change now that Ed Achorn has assumed the helm.
This morning's piece about a bill that would let child care workers bargain collectively with existing public sector unions carried the headline: "Another R.I. fiasco."  This is a stark contrast to the paper of record's May 6 editorial on the similar subject that was headlined "Early childhood potential."
The headline isn't the only difference in the two pieces. The more recent piece is just anti-organized labor hyperbole while the one from May 6 was a measured endorsement of the concept.
Today's op/ed suggests, in the first sentence, that people who support this legislation don't love the Ocean State.  The May 6 editorial had a very different opening: "For several years, Rhode Island Kids Count has provided invaluable data on the state's children."
Hyperbole is one thing. Misinformation is something else entirely. "It can only make government more costly and intrusive, fueling the flight of the state's educated people in their prime earning years," according to the Providence Journal as of today.
But actual economic analysis shows there is likely to be much economic benefit. This 2003 study funded by the Greater Providence Chamber of Commerce states: "for every public and private dollar spent on regulated child care, $1.75 is returned to the Rhode Island economy – a net positive return that almost doubles investments."
It's well worth noting that the SEIU crafted a more intellectually honest argument for the bill than today's Projo op/ed did to oppose it. Watch this video:
But if the ProJo editorial board needed any evidence whatsoever that this bill can do more than simply spend money it didn't have to look any farther than its own archives. Ostensibly, it was even written – or at the very least read – by the very same group of thinker/writers, minus the recently retired Bob Whitcomb.
The video pretty much communicates what the paper of record believed last month when it wrote, "…Rhode Island's child-care workers could use an upgrade. Most earn fairly low pay, making it difficult to further their education."
The Journal can both believe and publish what it wishes, and a center right editorial page may even benefit a center left constituency. But progressive viewpoints are not only largely absent from the paper of record's editorial voice, they are often misrepresented. That may benefit my business model, but it isn't very good for Rhode Island news consumers.
This post has been updated to fix an error. The post originally said the first editorial endorsed the bill. It did not.