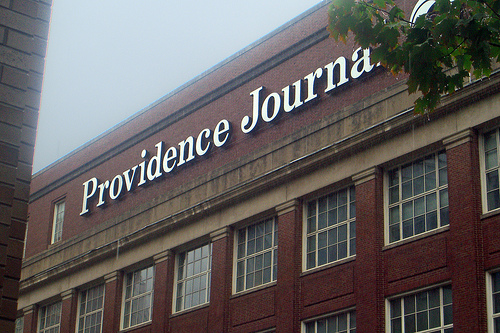 Providence Journal Executive Editor David Butler said Rhode Island's paper of record could have done a better job covering Bernie Sanders' primary wins onSaturday.
"I would agree it deserved more and the paper was GOP heavy," Butler said, responding to a Nicholas Delmenico post alleging the ProJo isn't offering fair and ample coverage to Democratic presidential candidate Bernie Sanders.
"Though you must admit the GOP race has been much newsier – for better or for worse," he added.
"Please note that Bernie Sanders' caucus wins were mentioned in the second paragraph of the A1 Sunday AP roundup on the primaries," Butler wrote in an email to RI Future. "Note that the lead story in the Monday paper was on the Clinton-Sanders debate."
Butler, whose full email you can read here, said, "There is no blackout of the Dems." Delmenico's post does not allege a blackout of Democrats, but rather of Bernie Sanders.
Sanders supporters have grown more vocal recently about what they see as unfair treatment of their candidate from the so-called "mainstream media" a colloquialism for the large, influential and in most cases for-profit corporations that Americans rely on to become educated about their government.
Delmenico insinuated the Providence Journal has not adequately covered Bernie Sanders because it is owned by a corporation with ties to Wall Street.
Others have said too many media organizations include superdelegate campaign promises when comparing Hillary Clinton and Sanders delegate totals. Superdelegates are party insiders that get a vote in who the presidential nominee is. They are known to change their mind. In fact, they are known to change their mind against Hillary Clinton, who eight years ago held a similar superdelegate advantage over Barack Obama before many switched to support the eventual nominee.
Clinton has won 671 delegates to Sanders' 476. But, according to the New York Times, Clinton also has 458 superdelegates who have said they will vote for her compared to 22 for Sanders.
ProJo editor admits paper of record did Bernie wrong

,