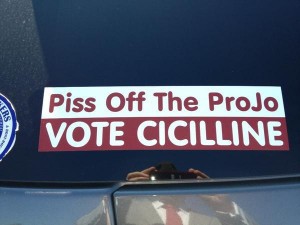 The Providence Journal may have endorsed Brendan Doherty but Bill Clinton endorsed David Cicilline … and, really, who's endorsement would you rather have?
Kidding aside, the ProJo lays out a pretty honest assessment of the Cicilline/Doherty race with its editorial this morning. They call Cicilline a good mayor who was dishonest at the tail end to climb the political ladder. This is true. I give Cicilline no free pass for lying about the city's fiscal situation, but don't think it's a sin worth throwing him out of office for. He's a strong progressive voice for Rhode Island in Congress.
Brendan Doherty, according to the ProJo, is still learning politics but seems like a good, honorable guy. This is true too. If this were class president or homecoming king, I might just toss my support behind Doherty. But being that it's politics, I'll go with the guy who knows politics.
Not to mention … listen again to what Bill Clinton says about David Cicilline and you'll see why he's is the right choice for Rhode Island:
ProJo Endorses Doherty; But Clinton Backs Cicilline

,