How misleading are Providence Journal editorials on public education and specifically charter schools? The news department ran a front page story this morning overtly correcting misinformation found in its editorials.
This from the second paragraph of the story 'Bill would not end expansion' on page A1 this morning (web version):
  And this is from the ProJo Editorial Board on June 18:

BVP was also used as an example in a June 9 editorial by the Providence Journal. A June 26 letter to the editor from former WPRO radio host Steve Kass, who also worked for Republican Don Carcieri, lauded and parroted the editorial's focus on BVP.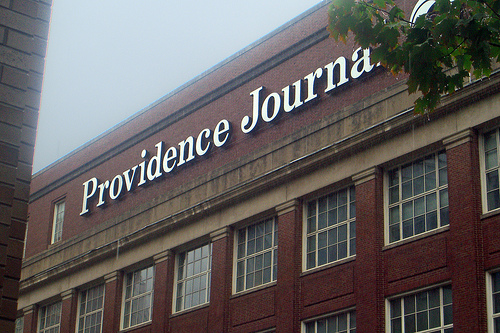 The ProJo editorial board has a long history of using – and misusing – Blackstone Valley Prep to represent all charter schools in Rhode Island. Many Rhode Islanders, even some charter school supporters, think the Journal editorial writers are purposely deceiving their readers in an attempt to improve public perception of charter schools.
In the same editorial, the Providence Journal writes, "What sin did the academy commit, in the eyes of the legislature, that necessitated its loss of funds? It is not unionized. And it tried to focus its spending on serving the students rather than providing costly benefits to adults."
Even the most ardent charter school supporters know there are more valid reasons than this to better regulate charter school expansion. Objectively, charter schools divert critical funding from the vast majority of public school students. The ProJo editorial board never mentions this more salient point. The all-white, conservative-leaning editorial board only seems to care about inner city students when charter schools are involved – and charters serve only 5 percent of overall public school students.
But don't confuse that with a hyper focus on charter schools. The ProJo editorial board has had nothing to say on a recent scandal at BVP involving teachers sending disparaging emails about students. But when a teachers' union official was found innocent of cyber-harassing a state legislator, the op-ed board still called for the official to be fired.
If the editorial board is banking on the fact that most readers don't pay close enough attention to see the nuance behind its obstructive and often misleading editorials, it is committing a gross miscarriage of journalism. Thankfully, the news department seems to be fighting back.
ProJo news story corrects Projo op/ed misinformation

,