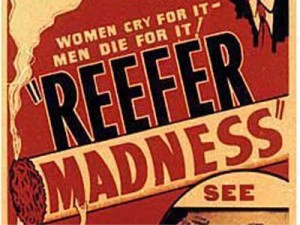 The Providence Journal op/ed page ran two opposing letters to the editor this morning regarding marijuana legalization but only identified one writer as an advocate with a special interest – even though the unidentified writer is paid through a federal grant to advocate specifically against marijuana.
In one letter, Jim Vincent was well labeled as being the executive director of the Providence branch of the NAACP in which he wrote, "Marijuana prohibition has not prevented use or abuse. More disturbingly, enforcement has disproportionately focused on low income and minority communities."
However, Debby Richards Perugini, who wrote a blistering critique of a ProJo news story, calling it one-sided journalism, was not identified as working for The BAY Team," Barrington's Drug Free Coalition," according to its web site.
Perugrini's public Facebook profile lists her as being a "project coordinator" for The Bay Team. A Barrington Patch article from 2012 says she was hired specifically to campaign against marijuana. According to the article: "Meet Debby Perugini — Barrington's new anti-marijuana use project coordinator. Perugini joined the staff of The BAY Team – the town's substance abuse prevention coalition — on Monday, Jan. 9."
The letters seem intended to run in tandem: both were initially published online on Feb. 24 and both were published in print today. It's unclear whether Perugini failed to identify herself as an advocate or if the ProJo op/ed page made an editorial decision to not label her as such. (I've reached out to both parties and will update this post if and when I hear back from them.)
In general, Perugini is entitled to express her opinions. In her letter, she claims that one of the medical marijuana centers was "recently advertising marijuana for non-medical use" which would be a crime. If this isn't true  (and I don't think it is) it could be libel and she's not entitled to express libelous opinions. Neither is the Providence Journal, for that matter. But she and the ProJo op/ed page are certainly entitled to make vague references to tobacco industry lies and insinuate that taxing and regulating marijuana will cause more people to buy it illegally.
But Rhode Islanders are entitled to know who is expressing these opinions and why – especially given that, according to the Patch article, Perugini is being funded by federal taxes for her efforts. It says:
"Perugini will be paid out of a federal block grant to the state department of behavioral healthcare, development disabilities and hospitals. The annual award is $75,000 for the next three to five years. Barrington is one of eight towns to get this money for substance abuse-prevention, primarily because Rhode Island ranks first in its marijuana use, especially in the 12-17 and 18-25 age groups."
So a Barrington mom is getting federal tax dollars to write inflammatory and reactionary letters to the editor on an issue the Providence NAACP says is unfairly affecting poor and minority inner city residents. And the Providence Journal op/ed page is labeling one as a special interest but not the other.
Welcome to how the war on drugs works. Or the New Jim Crow. It all depends on whether your a parent from Barrington trying to shield teens from marijuana or an inner city advocate fighting against latent racism.