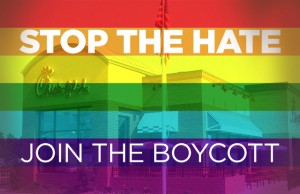 Chick-fil-A, perhaps the only fast food chain whose politics are more disgusting than its food, presents an interesting example of how people perceive political hot potatoes differently.
Those on the left focus on the bigoted views of the Christian fundamentalist owners who don't believe in marriage equality. And those on the right tend to zero in on the punishment being threatened by elected officials for the business' intolerance toward same sex couples.
It's a fast ball down the middle for anyone interested in presenting a complicated social issue as being more nuanced than simply good or bad, right or wrong.
But that's not the tack the Providence Journal took when its editorial board decided to tackle the issue. The Projo rightly called out pols who would punish Chic-fil-A for its bigoted views. Unfortunately it wrongly neglected to mention anything about Chick-fil-A's bigoted views.
Here at RI Future, where we vehemently support marriage equality and often purposely focus ire at those who don't, we did a better job at showing both sides of this issue! Something is seriously amiss with the marketplace of ideas when a left wing blog presents both sides better than the statewide daily newspaper. (In the Projo's defense, the paper did run at least one AP story on the issue. Forgive me for not linking to it, but they've made it pretty hard to find).
If you're interested, here's a much better perspective on the issue.
Projo Shows Colors on Chick-fil-A Editorial

,