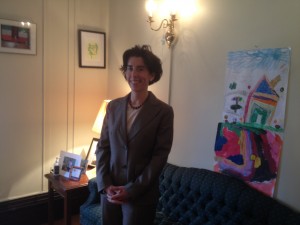 There was an interesting juxtaposition of articles relating to pension politics and Raimondomania stripped across the top of A1 of the Providence Journal this morning; one was about the outside money coming into the Ocean State, and the other was about local money leaving.
In the first article, about pension reform politics being funded in no small part by a Texas hedge fund billionaire who used to trade for Enron, Mike Stanton writes, "Raimondo has said she sees no problem with the law that EngageRI doesn't have to reveal its donors." (Read our post on this from yesterday)
In the second article, about all the time and money Raimondo has spent outside of Rhode Island, Kathy Gregg reports that Raimondo tells her, "…it is more important than ever that [a] treasurer bend over backwards to be transparent and open with our investors…"
This, in a nutshell, is what most frightens progressives about Gina Raimondo: she so often seems more aligned with the interests of Wall Street than Main Street.
"Raimondo talks about 'truth in numbers' — she should tell the truth about who her financial backers are," said Mike Downey, president of Rhode Island's largest public sector union, to the Providence Journal.
We ought to be as open with our citizens as we are with our investors. In fact, we ought to be even more open with our citizens than we are with our investors! Any politician would certainly agree with this premise, if asked the question outright. But actions always speak louder than words, and thanks to some good reporting by the ProJo, we now see that Gina doesn't seem to place the same kind of value on political transparency as she does financial transparency.