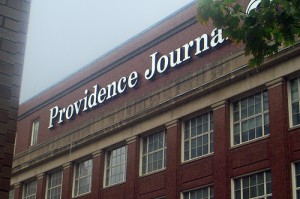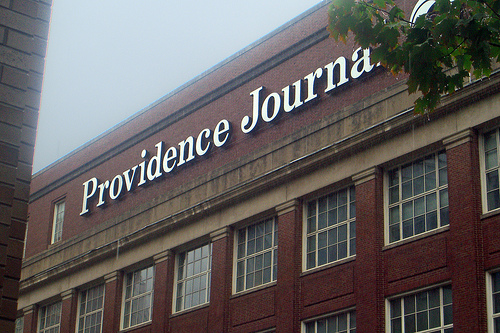 Projo State House beat reporter Phil Marcelo is one of the best journalists in the state, and so I have to assume this is something that happened in the editing process of his piece today titled "Democrats poised to unwrap own spending proposal." I've sent my friend Phil an email and am waiting to hear back from him. (Update: in keeping with Projo policy, Marcelo declined to comment)
In any case, in the 13th graph, the story reads:
House Speaker Gordon D. Fox, D-Providence, and Senate President M. Teresa Paiva Weed, D-Newport, are both firmly opposed to such proposals, but "progressive " Democratic lawmakers have used the budget process to make their case in previous years.
Why is the word progressive in quotes? Who is saying that? Who is being quoted?
No one, of course. It's well understood that when otherwise out-of-place quotation marks appear around a word of phrase without any indication that someone said something, they are being used to convey either suspicion or irony. They are commonly called scare quotes, and Merriam-Webster's dictionary defines the term as, "quotation marks used to express especially skepticism or derision concerning the use of the enclosed word or phrase."
Scare quotes are not forbidden in journalism. In fact, according to the AP Stylebook, in the section under quotation marks it says:
IRONY: Put quotation marks around a word or words used in an ironical sense: The "debate" turned into a free-for-all.
Okay … so what's ironic about progressive Democrats? Is the Projo insinuating that those who have used the budget process in recent years to make their case about tax reform are, in fact, not progressive?
To me, it smacks of media bias. Does anyone think the Providence Journal would ever put the word conservative in scare quotes to describe far-right Republicans? The local paper of record might be more inclined to capitalize the word rather than do that.
Like I said, Phil Marcelo is a great reporter and when I've questioned his reporting in the past he's always been able to back it up. I'd love to hear either from him or an editor, though I understand the Journal has a longstanding policy not to comment on its journalism.  If you'd like to do so, please use the comment section below.
UPDATE: Marcelo declined to comment.
Projo Uses 'Scare Quotes' To Smear Progressives

,