Four people have been arrested at National Grid's North American headquarter building in Waltham, MA. National Grid, one of the Northeast's largest utility companies, has a track record of injustice.
[Update: All 4 activists were booked at the Waltham, MA Police Station and are being transferred to the Waltham District Court at 38 Linden St. All have been released.]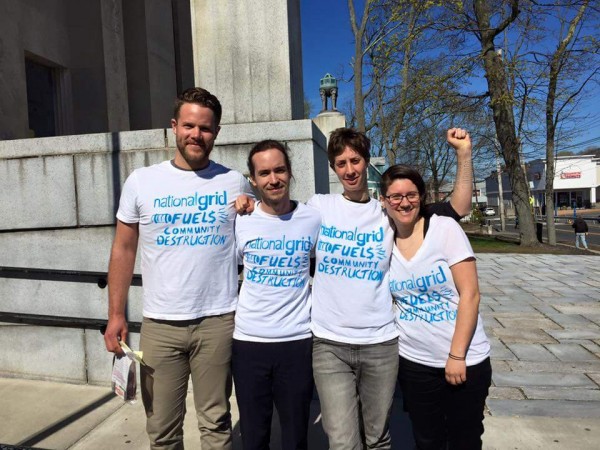 On Wednesday a group of residents from the Boston area launched a sit-in at National Grid's North American Headquarters. Activists cited concerns about National Grid's practice of utility shut-offs, past and proposed rate hikes, and the company's support of Spectra Energy and Kinder Morgan's proposed fracked-gas pipeline projects.
The activists deployed a report card-style banner in National Grid's lobby with "subjects" and bright red Fs indicating failing grades. Alongside these grades were required action the activists would like to see the company take. Highest on the list banner was National Grid's practice of utility-shut offs.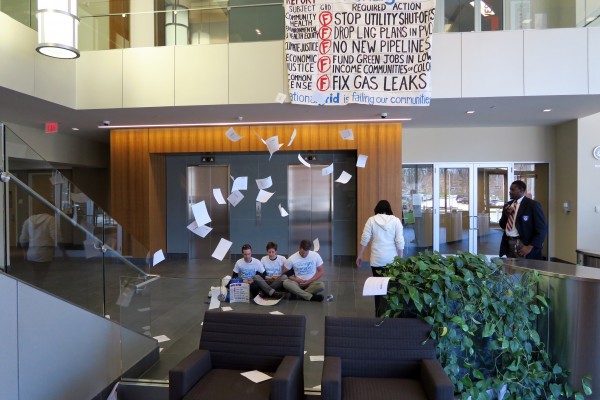 "Utility shut-offs disproportionately impact the most vulnerable members of society; elders and those with disabilities, low-income communities, and people of color," said protester Carly Toomey. "Rate hikes and shut-offs fuel displacement in areas already reeling from gentrification."
The FANG Collective, who supported the action, has been fighting Spectra Energy's fracked gas pipelines in the region for two years. National Grid is a 20 percent stakeholder in Spectra's proposed Access Northeast pipeline, a $5 billion project that would be paid for by a ratepayer tariff on National Grid consumers.
The activists pointed to the fact that the shift to fracked-gas as an energy source requires the construction of  infrastructure like power plants and liquefaction facilities in low-income communities and communities of color. Proposed facilities are planned for Salem and Brockton, MA, Providence and Burrillville, RI, and Bridgeport, CT, among others.
"We demand National Grid drop their support for fracked-gas infrastructure and instead fund local green jobs, especially for women and people of color," said Jonathan Barry who participated in the sit-in. "These investments would contribute to healthy communities as opposed to displacement and climate change."
[From a press release]
Protesters target National Grid in Massachusetts, 4 arrested

,