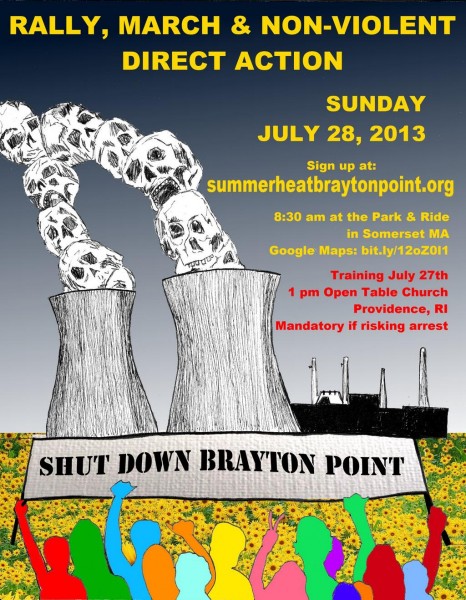 More than 1,000 environmental activists from all over New England are planning a direct action at Brayton Point power station near Fall River on Sunday. Civil disobedience will be utilized in hopes of shutting down the largest coal plant in New England that is a major source of air and water pollution.
There is a "mandatory" training in Providence on Saturday for those "risking arrest."
According to the website JoinSummerHeat.org, "We will call for Massachusetts Governor Deval Patrick and others to immediately close the Brayton Point coal plant and ensure a just transition for workers and host communities towards a healthy and sustainable future."
Brayton Point is in Somerset, Mass on Narragansett Bay, right on Rhode Island's border. While Massachusetts' largest source of carbon dioxide pollutes the entire northeast, the Ocean State is particularly at risk because Brayton Point is so close; it pollutes directly into Narragansett Bay and it's air pollution is literally visible from as far away as South County.
The protest is part of the nationwide grassroot effort to call attention to the fossil fuel industry's role in climate change and environmental and economic degradation organized by 350.org. Occupy Providence, Occupy Fall River, Fossil Free Rhode Island and the Brown (University) Divest Coal Campaign, among many others, have all promoted the event.
There is a sign-making party tonight in Providence and there will be a training in Rhode Island on Saturday for those who hope to be arrested. See this link for details.
"The training schedule on the 27th includes choreographed practice for the action, preparation for jail support, affirmation of action agreements, training in nonviolent direct action, a conversation with representatives of the National Lawyers Guild, time for forming action support groups, snacks, dinner, and more!" according to Occupy Providence's website.
"Brayton Point is the largest coal-fired power plant in New England, and at full capacity it's the largest source of carbon dioxide emissions in Massachusetts. In 2010, it poured 6.3 million tons of carbon dioxide into the atmosphere," according to SummerHeatBraytonPoint.org. "We can transition away from coal through increased efficiency standards and a strengthened renewable energy portfolio (including visionary projects like Cape Wind). We also need worker retraining and tax support for communities like Somerset and Fall River that have long borne the costs of coal."