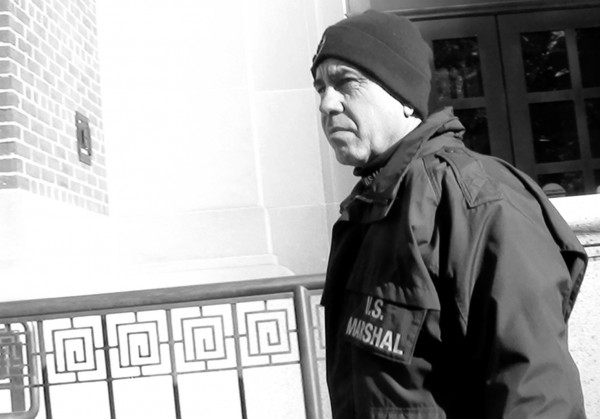 Randall Rose and members of the RI Coalition to Defend Human and Civil Rights held a protest against the aerial surveillance of cellphones outside the US Marshal's offices in downtown Providence. As reported in the Wall Street Journal last week, "Cessna aircraft are outfitted with devices—some known as "dirtboxes'' to law-enforcement officials—that mimic cell towers of large telecommunications companies and trick cellphones into reporting identifying information in a hunt for criminal suspects."
In the article, the Justice Department attempted to  justify the programs legality, while not admitting the existence of the program.
As Rose pointed out, without knowing the extent of the domestic surveillance, or the particulars of warrants being issued, it is impossible for the public to gauge the program's constitutionality.
The US Marshall stationed outside the Federal Building met the activists with instructions to not block the sidewalk and to "keep moving." The "keep moving" order was recently found to be "unconstitutional because it violated protesters' freedom of speech rights, as well as due process" by US District Court Judge Catherine Perry when such a rule was applied to protesters in Ferguson.
The three protesters held signs for passing motorists and handed flyers to pedestrians. After talking to reporters, Randall Rose led the way inside, where, after some negotiation, he was able to deliver a letter requesting information about the program to the US Marshal's office.
You can see highlights of the action in the video below:
Prov activists protest cell phone surveillance

,