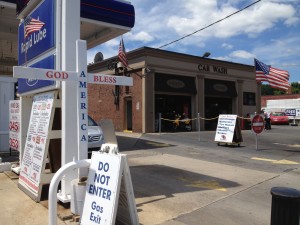 A Constitutional and community crisis has been averted as the cross on public property in Providence has been moved to private land. Peter Montequila, owner of Finest Car Wash on Pleasant Valley Parkway who erected the religious symbol on the city-owned road median, moved it Friday morning, his wife Doris said.
The cross, which Montequila put up on an Adopt-a-Spot median he takes care of, is now in front of his nearby gas station and car wash. The cross gained attention when Steve Ahlquist, president of the Humanists of Rhode Island, wrote a letter to Mayor Taveras and then blogged about in on RI Future.
Montequila, who said he put up the cross in part to show solidarity with other religious symbols on public property that have been in the news as of late, could not be reached for comment. His wife said the plan was always to remove the cross from public property after July 4, though Montequila had not said that in any of the interviews he had given.
Providence Mayor Angel Taveras visited the car wash this morning, as the cross was being removed, said Doris Montequila.
David Ortiz, a spokesman for Taveras, said in a statement, "The owner of Finest Car Wash, who has maintained and cared for the median in front of his business for 16 years, agreed to move the memorial off the public median and onto his private property across the street."
Ortiz said City Solicitor did not feel the cross violated the Constitution. But, he added, "allowing it to remain on city property would require the city to allow other individuals or organizations to adopt spots in the city and erect any symbol or sign."
"The current Adopt-a-Spot regulations permit applicants to post a sign indicating that they have adopted the spot," Ortiz said. "The city will update the regulations to specifically provide that no other signs or symbols will be permitted on adopted locations."
The Montequila's are giving away t-shirts commemorating the cross to customers who support them, Doris Montequila said.
Providence Cross Moved to Private Property

,