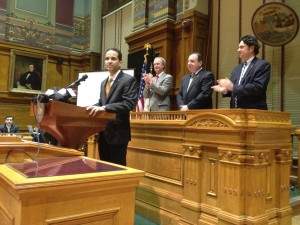 Providence Mayor Angel Taveras has won the endorsement of the Providence Democratic Party, his campaign announced today.
"For the past three and a half years our committee has been witness to the Mayor's tireless efforts on behalf of our city," said state Senator said Maryellen Goodwin, the committee chairwoman. Goodwin works in City Hall for the planning department and served as Taveras' acting chief of staff after Matt Jerzyk and Arianne Lynch left his administration.
"He has been honest, straightforward and has worked to bring people together and build consensus in order to put Providence on the right path. Providence's Road Improvement Project which began last year and invests $40 million to pave over 60 miles of road in our Capital City is a tangible example of this," she said. "We know these are values he will bring with him to the State House and could not be happier to offer him our endorsement in the race for Governor."
Providence is the sixth town/city Democratic committee to endorse Taveras. Previously, he was backed by the Democratic town committees from Pawtucket, Smithfield, North Kingstown, Coventry and Hopkinton. He has also won the endorsement of 9 state senators and 24 House members, listed below.
Senator Elizabeth Crowley,
Senator Daniel Da Ponte,
Senator James E. Doyle II,
Senator Gayle Goldin,
Senator Maryellen Goodwin,
Senator Roger Picard,
Senator Juan Pichardo,
Senator Leonidas Raptakis,
Senator Adam Satchell,
Representative Marvin Abney,
Representative Joseph Almeida,
Representative Gregg Amore,
Representative David Bennett,
Representative Stephen Casey,
Representative Robert Craven Sr.,
Representative John DeSimone,
Representative John Edwards,
Representative Deborah Fellela,
Representative Frank Ferri,
Representative Scott Guthrie,
Representative Ray Johnston,
Representative Katherine Kazarian,
Representative James McLaughlin,
Representative Helio Melo,
Representative Mary Messier,
Representative Michael Morin,
Representative Tom Palangio,
Representative Patricia Serpa,
Representative Agostinho Silva,
Representative Scott Slater,
Representative Lisa Tomasso,
Representative Larry Valencia,
Representative Donna Walsh,