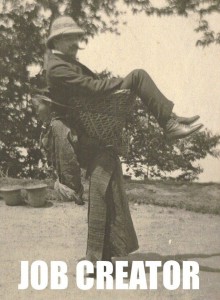 In Saturday's edition of the Providence Journal, Richard Riordan and Eli Broad contributed an opinion piece typical of the declining editorial quality of a decaying news source. Called "It Isn't A Sin To Be Rich," the pair penned the argument against the rhetorical criminalization of affluence.
While everyone is entitled to an opinion, not all opinions are equal. Opinions that are condescending, uninformed, and pedantic tend to hold less water than those that contain actual evidence, substance, and argue a point that actually exists outside of the consciences of the interlocutors.  What people want is tax equity. Equality and equity are distinctly different. Equality would be like a circle of people all removing their shoes and tossing them in the center. Equality is then handing out the shoes randomly until everyone has two, regardless of size, type or match. Equity is giving everyone a matching pair that fits his or her needs.
What these authors fail to provide is any evidence to back up their opinions. They quote Janet Yellen and the President, but other than that their only evidence is anecdotal. The only historical precedent given is not even from this country. Income tax rates on the upper percentages of income earners in America were, for the biggest portion of America's rise to world economic benchmark, between 70%-92%. Then they dropped considerably in the 80s – 28% – and briefly rose again to 39% during the Clinton years. Bush 2, however, dropped them back to 35%.  It is also the 80s that marked the tipping point in the systematic elimination of America's middle class. The demonization of labor unions and deifying of Wall Street traders was a paradigm shift in the American zeitgeist.
The authors refer to the wealthy as the job creators but discuss the uncontrollable factors of globalization of manufacturing and automation as the real culprits. If the wealthy are the job creators, where are the jobs? The argument against "socialism" in favor of "voluntary charity" is as deplorable as the reference to tax equity as "punitive." Certainly charity is appreciated. However, charity would be less of a necessary component of the American economy if the so called job creators actually created jobs. And not just subsistence level or below, part-time or less, or mis-classified contract work. Worker productivity has increased by 80% since the 1970s but wages have stagnated in spite of cost of living increases.
The question is, if the workers are not seeing profits of the maximization of productivity, who is? Are the job creators responsible in that circumstance? Furthermore, charity increasing "in spite of the halting economic recovery" falls short of mentioning the record-setting stock market. The authors' Janet Yellen reference, previously mentioned, pointed to the fact that more and better earnings-potential was directly linked to post-secondary education.
Many Americans who "decide" not to go to college do so because they are unwilling to make a loan investment of thousands of dollars when there are so few jobs after graduation. Furthermore, with cuts in federal aid, increasing tuitions, and higher competition for grants and scholarships, college is less likely to be attractive for the children of today's economy.  Overall, this editorial reads like a bad advertisement and those of us who are not educated enough or have not worked hard enough or were not born lucky enough to reach the lofty heights of the authors' fiscal standards, cannot afford to buy the bridge they are trying to sell. Rather, the opinion should be directed to fellow victims of the supposed demonization of the wealthy. They are better comforted by the flowery rhetoric and carefully lain blame. Being rich is not a sin. Yet one does well to remember the Beatitudes when thinking of what is and is not a sin. Especially those as described by Luke:
Woe to you who are rich, for you have already received your comfort.
Woe to you who are well fed now, for you will go hungry.
Woe to you who laugh now, for you will mourn and weep.
Woe to you when everyone speaks well of you, for that is how their ancestors treated the false prophets.
Providence Journal: Poor Richard Riordan and Eli Broad

,