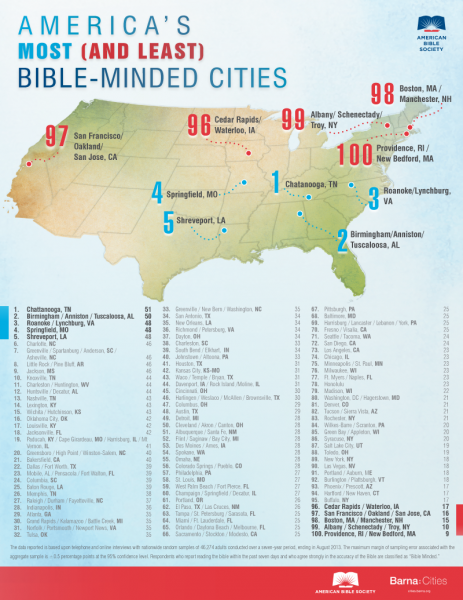 "We want people to know that whether you live in the least or most Bible-minded cities, the Bible can speak to your needs, challenges and concerns and help you make sense of your life," says the American Bible Society (ABS) in a report that listed Providence RI and New Bedford MA as the "Least Bible-Minded" cities of 2013.
Taking the opposite spot of most "Bible-minded" is Chatanooga, Tennessee.
Drawing on research conducted by the Barna Group "a leading research organization focused on the intersection of faith and culture" the ABS claims to have discovered an inverse relationship between "population size and Bible-friendliness." In short, those cities with more Bible-mindedness have smaller populations, on average.
Time Magazine reports that Bible-mindedness, according to the ABS and Barna, is determined by the number of "respondents who report reading the bible within the past seven days and who agree strongly in the accuracy of the Bible." By "Bible" the ABS and Barna apparently also include the Torah, (but not the Quran?) as the exact question asked was, "How many times do you read the bible outside of church or a synagogue?"
That this report is a load of bunkum should be obvious to all. The very concept of "Bible-mindedness" is questionable, to say the least. Though a familiarity with the Bible, like a familiarity with the works of Shakespeare, should be a part of any decent Western education, the ABS advocates a morbid relationship with the Bible that encourages daily readings and rote memorization.
Need to memorize the Bible? The ABS has an app for that.
This report, to the extent it is the least bit reliable (and that's giving it way too much credit in my opinion) should at least give pause to any state legislators who seek to appease the loud yet tiny minority of Rhode Island voters who push for legislation that favors their religious views over others.
Rhode Island, by measure after measure, is a proudly secular and religiously diverse state, and our laws should seek to protect that balance.
Providence last in 'Bible-mindedness'

,