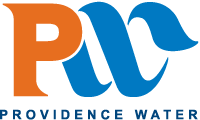 According to the Providence Water Supply website, "there are approximately 20,000…[lead] lines still in existence in the Providence Water system." The Water Supply Board's website includes an interactive map of lead water pipes in the city. The red dots are lead lines and blue are other materials.
It is difficult to discern from this figure how many residents and businesses in Providence are therefore consuming water from lead water lines due to the varied nature of occupancy at a given address in the city. According to Water Supply website 60.85 million gallons are used per day.
Customers are not facing the immediate danger of lead poisoning similar to Flint. The disaster in Flint happened because a chemical was added to the water that leached lead from the pipes and solder, infusing the water with lead that would otherwise not have been present. This chemical was added to the water supply because, in an effort to save money, the government had switched the water supply from the much cleaner Detroit Water and Sewage supply system to the much dirtier Flint river, a waterway that was polluted over decades by industrial and automotive factories that were built up alongside its banks. If this chemical had not been added to the Flint river water supply, the plumbing system in the municipality, still including lead pipes and solder, would not have poisoned the population. Providence, like many other municipalities, regularly flushes its plumbing systems via fire hydrants to prevent concentration of lead from accumulating.
Recently, the Associated Press issued a report on Providence's aging water infrastructure:
An analysis of U.S. Environmental Protection Agency data by The Associated Press found that Providence's drinking water system was one of the largest in the country to exceed a federal lead standard since 2013. It has gone over the limit six times since 2010 after testing samples of the tap water used by about 300,000 people in Providence and the surrounding cities of Cranston, Johnston and North Providence.
This is akin to what Rhode Island's Future reported several months ago when this news was carried in The Guardian.
The crisis in Flint, Michigan has reignited a national conversation about lead plumbing and safety, a discussion that includes the water system of Providence. We decided to take a deeper look at this issue and outline first the parameters and then the solutions possible to this issue.