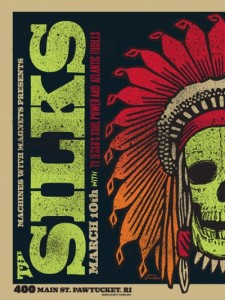 There's a show tonight at Machines with Magnets that I won't be going to, but it will be King Hell awesome. I think The Silks are one of the best acts on wheels right now, even though I'm not really a roots music kind of guy.
Based on the advice of my friend Lord Giovanni, we brought The Silks up to the shop to cap off one of those morale-boosting days, and they positively CRUSHED it. It's not easy to please true-to-life factory types, ultra-genius engineers and, well, me. But they had 100% of the people smiling. The support card tonight includes The Atlantic Thrills, who will rip your face off and gave up a stellar performance at last year's Wooly Fair.
The wider music scene in PVD also includes The Rice Cakes clever post-pop, The 'mericans 'mericana as well as RI Future's own Alex Moore's The Invisible Hours psychedelic pop and Reza Clifton's soulful hip-hop to name but a few.
Okay, enough with the name-dropping link bait. You get the point.
Next month will mark my 20th anniversary as a Providencean (with a few years as a Bucketeer), and right now is the best it's been. I realize that RI features some particularly ugly statistics and that some, even many folks are having a tough time. But for me, this is the most satisfying life experience to date.
Why? It's the cult-chuh!
Compared to What?
Here's the thing. It's not like I moved here from South Carolina or the 'burbs of VA. I've lived in Boulder, CO; San Francisco; Burlington, VT and East Jeezum, VT.
There's obviously a pattern. I've always actively sought a liberal or progressive political culture and an active local arts scene. While I didn't choose to move to Providence, I choose to stay because I really love it here.
It's fashionable to bash on Rhode Island, and even I was pushed over the edge by my DMV-ing last week. But these negatives quickly fade away when I have so many stimulating and satisfying options from which to choose. When I hear people beef about RI, I really don't get it. What do you want out of life, people?
Of course, Providence isn't for everybody, and to each his or her own. I know that one frequent commenter is quite satisfied with the VA 'burbs, although another person I know is positively hating it down there and can't wait to come back. I've had family reasons to go to South Carolina many times, but I'm hoping I never have to go there again as long as I live.
To each his or her own. Fair enough.
Three One-of-a-Kind Examples of Awesome
If you've never been to a show at Machines with Magnets, you have missed a fabulous and unique experience. (GO TONIGHT!) MwM in Pawtucket is a recording studio, an art gallery and a performance space. And all the parts are strong. They've recorded both Battles records, local heros Deer Tick and a lot of other highly demanding artists. To call the shows in the gallery/performance space "intimate" does not express the immediacy of the experience. It is at once world-class, entirely approachable and actively supportive of the local scene. Where else can you cite that's like that?
Wooly Fair, of which I am a part, is head and shoulders above any arts event I've ever been to. What makes Wooly so amazing is the complete and utter lack of support from anybody who's not an artist or creative of some sort. There's practically no corporate or civic sponsorship, and to date, it's been almost entirely volunteer-driven. That leaves us free to create what no highly sponsored event can – total madness.
Lastly, Thee Red Fez is my favorite restaurant anywhere. Well, Bazaar in Amsterdam gives it a run for its money. It may be the ultimate expression of Providence-ness. Founded by a (married) couple of punks, it makes eclectic seem boring. The vibe is young and lively, and the menu is constantly changing with a focus on local ingredients. Chef Ed Raposa is a food genius. Breaded, deep-fried kim chee. Quod erat demonstrum. I've taken numerous clients there, and one – a true world traveler – paid it the ultimate compliment of photographing the menu and sending it to a friend as part of their ongoing best-menus game called "Where Am I?" None of the three guesses was "Providence", and the revealed answer was met with complete incredulity.
This posting of some dozen-odd examples only scratches the surface of the outrageously rich cultural life that makes Providence such a great place to live. In conclusion, I like it here.
Providence: My Favorite Town

,