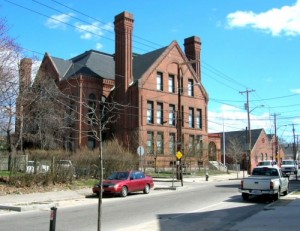 Original text:
You're invited to a Community Meeting about the Providence Public Schools
Councilman Bryan Principe and Councilwoman Sabina Matos join Providence Schools Superintendent Dr. Susan F. Lusi in welcoming you to learn more about what's new in the Providence Schools.
Families and community members from Wards 13 & 15, as well as other city residents whose children attend Carl G. Lauro, William D'Abate, Webster Avenue and Asa Messer Elementary Schools are encouraged to attend this community event.
Wednesday, February 1, 2012
6:30 p.m.
Asa Messer Elementary School
1655 Westminster Street
Meet Interim Superintendent Dr. Susan F. Lusi
Learn more about Providence Schools initiatives and the strategic outlook for the district
Learn how families can help support the vision of greater student achievement for all students
Hear how your City Council representatives are working with PPSD toward a better education for  all children
RSVP is requested but not required.
Call 456-0886 to respond.
Spanish translation services will be available.
* * *
Quedan invitados a una Reunión Comunitaria sobre las Escuelas Públicas de Providence
Los concejales Bryan Principe y Sabina Matos estarán junto a la Superintendente de Escuelas de Providence, la Dra. Susan F. Lusi dándole la bienvenida a conocer más sobre qué hay de nuevo en las escuelas.
Animamos a la asistencia de familias y miembros de la comunidad de los distritos 13 & 15 de la ciudad, al igual que a otros residentes cuyos niños(as) asisten a las escuelas Carl G. Lauro, William D'Abate, Webster Avenue y Asa Messer.  Este será un importante evento comunitario.
Miércoles, 1 de febrero, 2012
6:30 de la noche
Escuela Primaria Asa Messer,
1655 de la calle Westminster, en Providence
Conozca a la Superintendente, la Dra. Susan F. Lusi
Conozca más sobre las iniciativas en las escuelas y el plan estratégico para el distrito escolar
Entérese de cómo puede darnos su ayuda con la visión de aumentar los logros académicos de los estudiantes
Sepan cómo sus representantes en el concejo trabajan con PPSD para mejorar la educación de todos los estudiantes
Agradecemos sus reservaciones.
Llamen al 456-0886 hacer reservaciones.
Tendremos traducción al español disponible.