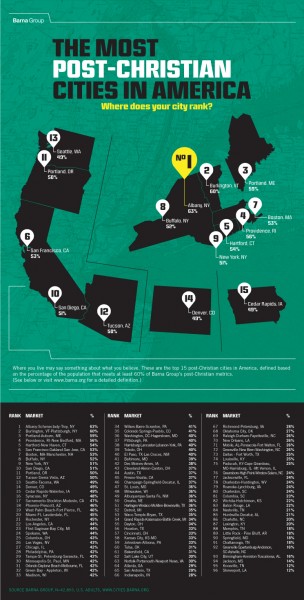 More and more research seems to come out every week that talks about the decline of traditional religious beliefs in the United States. Stories about the "nones" those that that claim no religious affiliation, place the number at about 20% nationally, and here in Rhode Island that figure is over 40%.
Now the Barna Group has released new data on what it calls "Post-Christian Cities." As Barna puts it:
The level of irreligion in America depends on how you measure it. And the vitality of faith in America is much more than simply how people label themselves. Barna Group tracks the following 15 metrics related to faith, which speak to the lack of Christian identity, belief and practice.
The Barna Group identified "Post-Christians" as meeting 9 out the following 15 factors, and identified those who identified with 12 of the 15 factors as being "Highly Post-Christian. The factors listed are:
1. do not believe in God
2. identify as atheist or agnostic
3. disagree that faith is important in their lives
4. have not prayed to God (in the last year)
5. have never made a commitment to Jesus
6. disagree the Bible is accurate
7. have not donated money to a church (in the last year)
8. have not attended a Christian church (in the last year)
9. agree that Jesus committed sins
10. do not feel a responsibility to "share their faith"
11. have not read the Bible (in the last week)
12. have not volunteered at church (in the last week)
13. have not attended Sunday school (in the last week)
14. have not attended religious small group (in the last week)
15. do not participate in a house church (in the last year)
The Providence, RI-New Bedford, MA market area came in number four, at 56% "Post-Christian."
Such data should give pause to those who might want to impose their religious views on the marriage equality legislation currently awaiting a vote in the RI State Senate. For the vast majority of Rhode Islanders, the views of the Catholic Church and conservative Evangelicals are irrelevant at best. Add to that 56% number those religious believers that do not meet the criteria of "Post-Christian" but instead justify their acceptance of marriage equality in religious terms and the number of people unswayed by conservative religious arguments jumps appreciably.
I've pointed out in the past that many, if not most Catholics are "cultural" Catholics or "Catholics-in-name-only."  A NY Times/CBS News poll conducted in March showed most American Catholics hold views that are seriously contrary to official church teachings.
As if to exemplify this trend, when asked, "On difficult moral questions, which are you more likely to follow – the teachings of the Pope, or your conscience?" 78% of Catholics answered "conscience." It is either irony or poetic justice that as the Catholic Church redefines freedom of conscience and religious liberty with their "Stand Up for Religious Freedom" campaign, that the Catholics who do so move away from the church.
Freedom really does come at a cost.
Providence ranks 4th most post-Christian city

,