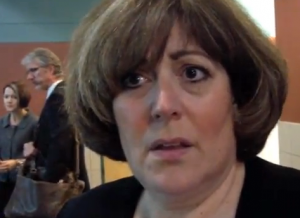 It is obvious that Eva Marie Mancuso is an intelligent and hard-working Chairperson for the Board of Education.  In addition, it is also obvious that she is tenacious and committed to her causes.  With all of this said, I find it extremely unfortunate that she referred to the PSU as sideshow.
At a time when we are discussing relevance in education, a group of young people have taken it upon themselves to organize and advocate for a significant issue.  Rather than being referred to as a sideshow, they should be referred to as exemplars for promoting a cause.  They have done so with courage, intelligence and commitment.  Believe me, they are no sideshow.
It appears as though the discussion pertaining to the NECAPs has reached a jingoistic phase.  Again, this is unfortunate.  Maybe it is time for a public discussion where champions of both sides sit on a panel, articulate their points and discuss the issue in an open forum.   This has been promised in the past.  This appears incredibly necessary for the future.
I truly appreciate the efforts that many have put into this contentious concern.  I also firmly believe that those in advocate for the NECAP are as committed to their views as those who call for its elimination as a graduation requirement are.  Don't you think it's time that we all get in the same room and have an open and public discussion?  We owe it to the citizens of Rhode Island to provide accurate and clear information.  We owe it to Rhode Islanders to provided viable information in order that they might make an informed decision.  Let's stop the finger pointing and insults and get back to intelligent people being involved in intelligent discourse.
At this time, a number of advocates and myself are planning a statewide forum to discuss the role that standardized tests like the NECAP play in our education system.  Stay tuned for more information.