Recent organizing efforts and protests in Providence, most recently, the protest of New York City police commissioner Ray Kelly at Brown University, have not only received the ire of reactionary conservatives, but also established "progressive" voices.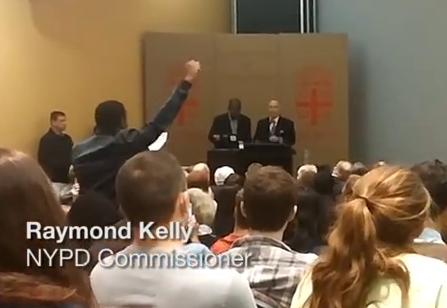 Certainly, the conservatives have a lot to lose in capitulating to the demands of groups like the Providence Student Union (PSU) or the organizers of the Kelly protest. Those with opposing ideas of how society ought to be must confront each other. The more dismal component of these debates and contests however, are those allegedly "progressive" voices, who, from the sidelines of any struggle, use their privileged access to the media to denounce the  methods or tactics of organizers. It's important that this debate between these progressives (and so-called "civil rights leaders") be settled in favor of an analysis that values justice over civility, promotes the liberation of oppressed people rather than defending the "rights" of oppressors.
So much of the criticism, and in some cases, outright dismissal, of the Providence Student Union (PSU) is focused on their tactics. Caricatured as a "sideshow" and otherwise cheap political theater, the protests and actions of the group seem to be the only thing up for debate in the minds of conservatives and professed "progressives" alike. PSU's demands to rescind the NECAP standardized test graduation requirement, along with the largely unarticulated contention their work raises – who should decide how and what Providence students learn – don't seem worthy of consideration.  Perhaps the reason we – so conveniently, it seems, for the arguments of the pundits criticizing the PSU – don't get anywhere with so-called "education reform" is because no one with formal decision-making power actually wants to change the direction we're heading. More testing, evaluations designed to undermine teachers' unions, and privatization of everything, from entire schools to busing. The conclusion one is bound to draw from the focus on superficial aspects of the situation – "how" the PSU goes about making its point- is that whomever is pandering this kind of analysis must have some stake in the status quo. No argument over the PSU's "tactics" will result in change, especially when the context in which the students struggle to find a voice is almost entirely ignored.
Many critics of the PSU would have us believe that the group's alleged "sideshow" tactics are unnecessary, some going so far as to say they're just looking for publicity, not even trying to address a social issue. Yet no one seems capable of articulating how these students might otherwise voice their position in regards to NECAP or any other policy of their schools for that matter. Without a proposed alternative, one is forced not only to question what stake these critics might have in keeping things the way they are, but also where the root of their angry response to the Unions "tactics" truly lies. I would argue this ugly root is actually shaped by bigotry based on age, race, and class.
Coupled with a general fear of change (along with the power and paychecks involved) there is a deep undercurrent of hackneyed prejudice to the majority of the criticisms of the PSU. One could imagine, based on her crude comments, that Board of Education chair Mancuso doesn't believe any 16 year old should have a say in her own education. I suppose she'd rather decide for students, in private meetings, what and how they will learn (and subsequently, how they'll be valued as workers and adults). In Mancuso's myopic, white-washed world, perhaps this is enough to try and wrap her mind around. But, because the PSU is based in Providence, because its members are mostly African-American, Latino, South East Asian, because many come from immigrant families, there is a lot more than the chair's distaste for kids at stake. Though banal arguments about "tactics" obscure (intentionally in most cases), the fact that racism and class privilege are undeniably present in this situation, anyone savvy enough to understand the history and political-economy of public education in this country should not be duped.
Context matters. It matters in any debate over the Union's demands, and it matters in one-dimensional diatribes about "tactics." The real questions we ought to be asking ourselves are: should the students of the PSU (and students in general) have a say in how and what they learn? Who and why might someone argue that they shouldn't? Why would the PSU employ the "tactics" they have? What other options were and are available to them? These questions, unlike the ones being posed in the majority of commentary, might get us closer to the issues underlying the work of the PSU and the roots of the arguments against them.
Based upon the response from policy-makers, school administrators, conservative and progressive commentators, it would seem that no one criticizing the PSU actually believes students (or perhaps these students) should have a voice in their own education. One of the fundamental beliefs that the PSU's protests challenge is that administrators, far-removed policy hacks, and, increasingly, profit-seeking education corporations and their consultants, ought to decide how and what students learn.
By organizing – a concept it appears few still understand – the students of the Union are part of a long, dynamic history of how change happens in this country. One of the most prominent examples, the gains of which many PSU critics implicitly or even explicitly in some cases, work to roll back, is the Civil Rights Movement. The foundation of that widespread movement for racial justice was organizing, not the idolatry of Martin Luther King – which many of the Union's "progressive" critics stake their reputations upon. That foundation was laid by the localized, person-to-person work being done, largely uncelebrated, by Black women in the South. Organizing, against the Jim Crow of the mid-20th century American South, or the current Jim Crow system of mass incarceration, police terror, and yes, a deeply racist education system, means opening the moral, political, and physical space for the oppressed to challenge the system of white supremacy and class domination that day-to-day largely tramples on unhindered.
The direction, militancy, and horizons of the Civil Rights Movement came from those without recognized political power, whose dreams of a different life, fueled by their daily experience of white supremacy, made them uncompromising in their struggle for justice and perhaps even revolution. These "common" visionaries, often pushed the limitations of their alleged leaders, driving the movement on to it's next important strides towards a racially just society. Those who would seek to denounce the students of the PSU, and thus make crucial decisions for them, rather than with them, would do well to take lessons from history. Again, where do these detractor's ideas about who should run the public education system derive from? From the brutal, white supremacist and capitalist status-quo. They aren't doing themselves, or any of us for that matter, any favors by seeking to suppress the liberating energies of the Union's student organizers. They are, as usual, simply lining their own, as well as the usual suspects, never-ending pockets. All in the name of "progressivism," or even, "civil rights!"
It should be no surprise that the same antagonists who have been moralizing the PSU's tactics would apply their reactionary logic to the recent protest of New York City police commissioner Ray Kelly. In the alleged defense of free speech, self-proclaimed civil rights leaders (along with, thanks to the Providence Journal, conservative think-tanks) have admonished the student and community organizers who prevented Kelly from speaking at Brown University. That Kelly was heckled off the stage is being called an "uncivil" disruption of his right to speak and the audience's right to hear him. These detractors claim that the protestor's would have been better off engaging in "civil discourse," held up as the backbone of any progressive change.
Two related points need to be made about Kelly's "rights," as well as this vague and much-touted concept, civil discourse. Firstly, since when did rights have nothing to do with power? What tradition of civil rights are these alleged spokespeople upholding? Kelly, wielding his control over the policies and practices of the entire New York City police department, has established a system of race-based oppression, intended to generate fear in the people of color of New York. This is the institutionalized, highly-resourced, and undemocratic (he was appointed, no?) power Kelly holds. In this position, he has had ample opportunity, not only to voice his opinion, but to actually put his ideas into practice!
How does Kelly's power, and subsequently, despite what many commentators would like us to believe, the breadth of his rights, compare to that of the organizers in the crowd? The organizers had no institutional backing whatsoever, except for those small, mainly volunteer-run institutions they had built for themselves. It should be easy enough to see through the straw man about Brown's "liberal" professors and "culture." The self-proclaimed "liberals" being touted as the scourge of conservatism on campus are the ones deriding the protestors! It's certainly not a liberal conspiracy to toss out someone like Kelly. I imagine that if those "unruly" protestors and their ideas were really running things at Brown, we wouldn't have seen Ray Kelly on campus at all, let alone for a huge honorarium and in a celebratory fashion.
Moreover, these organizers and protestors were, in the majority, people of color – the targets of policies like Ray Kelly's (which, by the way, have been the norm in Providence for years, the Providence PD simply does not have a nationally recognized, formal policy of racial profiling. They prefer to deny that profiling exists.) Whatever limited power these organizers have, Kelly's policies are designed to undermine, using near-constant threat of harassment, violence, and incarceration. Though indignant commentators would surely gasp, it's clear to these organizers (and to those willing to accept the actual history of this country) that Ray Kelly and his policies are buttressed by hundreds of years of colonization, chattel slavery, and systemic racism, while the protestors instead struggle to overcome these bulwarks of American society.
Are we to believe that, given this glaring imbalance of power, Kelly and the protestors would have been on a level playing field had they simply engaged in civil discourse? Asked polite, but "tough" questions at the end of the man's speech? Wrote patient and explanatory articles in the Brown Daily Herald? What incentive then would there be for Kelly's policies of stop-and-frisk to be put to an end, either by Kelly himself (presumably after hearing the protestors impassioned, reasoned arguments) or by public opinion (which might, heaven-forbid, empower people in New York City to resist stop-and-frisk…oh wait, that's already happening!). How easy it is to moralize in a vacuum! How simple-minded to presume, against undeniable evidence, that there is no imbalance of power mediating our rights. Again, like arguments against the tactics of the Providence Student Union, one must ask: is this innocent ignorance, or are those making these claims protecting something, intentionally obscuring reality, admonishing those who rupture the everyday through protest, to suit their own comforts, "rights," and privileges?
It's a massive betrayal on the part of anyone claiming to uphold the banner of civil rights to decry protestors (mostly protestors of color!) fighting the representative of a racist police policy, without even a nod to the fact that racism or massive disparities of power and influence exist in our society. Not content to simply obfuscate the reality of race and class power, some have gone further, infantilizing people's reaction over an "emotional issue" as a substitute for any real analysis of the situation. Surely New York's stop-and-frisk policy and the long history of racialized terror from which it springs are worthy of more than a plaintive wail about how they must make people feel!
Perhaps this is related to the bastion of liberal problem-solving, civil discourse, which has been tossed about not only as the reason to disdain the protest of Kelly, but as an inviolable pillar of our "tolerant" society. The alleged leaders called upon to comment on the protest are, rather than championing the rights of those terrorized, locked up, and brutalized by Kelly's policies, defending their favorite straw man: civil discourse. They would have us believe that impatient and crude activists are always assaulting this discourse and preventing real, painless change from occurring. Kelly's speech sheds light on what this "discourse" ultimately amounts to. The argument goes that the protestors, rather than "silencing" the commissioner, should have politely heard him out, then posed their challenging, yet civil, questions during the established Q & A. The result would have been a genteel and unremarkable event. And those local policy-makers and police, who only want to fight crime more effectively, would have heard their racist views and practices reaffirmed by an exalted cop, maybe steeling them to push "proactive" policing further in Providence. The Brown undergads on the verge of tears for the display of free-speech bashing would not have had to be so traumatized!
Yet, what were the protestors after? A statement. A statement against clearly racist policies. From the initial request to cancel the lecture (and spend the honorarium somewhere more appropriate), student organizers sought a disavowal of Kelly and the type of world he represents – a world that is anything but civil. If the protest made you uncomfortable, made you fret over rights, perhaps you might imagine (if you haven't already experienced it like so many others) a stop-and-frisk. Or, consider not just an isolated incident, a one-off of humiliation, terror, and potentially life-changing consequences, but a generalized, daily routine of surveillance and random violence – the explicit goal of Kelly's policies. One would hope that champions of civil rights would view the depravity of institutional racism as more discomforting than the heckling of a university's honored guest. US racism was, after all, built within the genteel, civilized society of the plantation South. Not exactly a concept that we ought to be touting.
Between the Providence Student Union's confrontation over the future of the education system and the uncivil discourse of protesting Ray Kelly, it's clear that comfortable, establishment liberals, like their forbears, simply will not choose sides, despite an increasingly clear war over the direction of our society. It's moments like these that expose liberalism's inadequacies of vision and analysis. How can you participate in the struggle for justice if you become squeamish over challenging the speech of the overseer of a racist police system? How can you envision a new society if your inviolable method of change is limited to civil discourse? Who has access to this realm of discourse? Apparently Ray Kelly was welcome, while the "rude" protestors were not. So those directly impoverished, violated, too often even murdered by the systems you and Kelly quietly debate are to sit on the sidelines, face more incarceration, deprivation, and injustice, until a civil solution is worked out by those worthy of the conference room?
It's long been time for those shielding themselves from the obvious conflict going on by hiding behind civility to declare a side. For the oppressed may not fit your description of civility. Those on the side of the oppressed might, reasonably, take your actions to mean that you have chosen your side – that of the existing system and its elites. Perhaps, despite the fact that it will not be a civil contest, folks have chosen to fight for a fundamental revolution in society, to fight for their rights to imagine, create, and live to achieve their full human potential. To defend the rights of a man like Kelly against the bold and uncivil action of those his policies oppress is to choose Kelly's side of history, the losing side.
So, stop trying to build careers by placating those with power and influence, stop demanding civility and start demanding justice, and decide which side you plan to fight with. I for one, will follow the leadership of those bold organizers and protestors who heckled Ray Kelly offstage. I will follow them to victory over racism and capitalism, and I will gladly be uncivil doing it.
PSU, Ray Kelly and the nature of protest

,