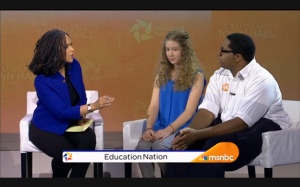 Classical High School student and Providence Student Union member Cauldierre McKay has gone national. He and other members of Student Unions from around the country appeared on MSNBC's Education Nation this Sunday.
"Education reform has become a prominent debate across the country, but the students who are impacted by its result are rarely invited to weigh in," according to the MSNBC blog. "This year, there has been a surge of students determined to disrupt that standard and make their voices heard to advocate for education reform that makes sense based on their own experiences with hot-button issues like high-stakes testing."
Here's the post from the Providence Student Union blog.
Here's a great segment of McKay talking explaining how the PSU parlayed a zombie march, it's first direct action, into an adult test taking session and national notoriety:
Visit NBCNews.com for breaking news, world news, and news about the economy
And here's the first segment of the special:
Visit NBCNews.com for breaking news, world news, and news about the economy
PSU's Cauldierre McKay takes to MSNBC

,