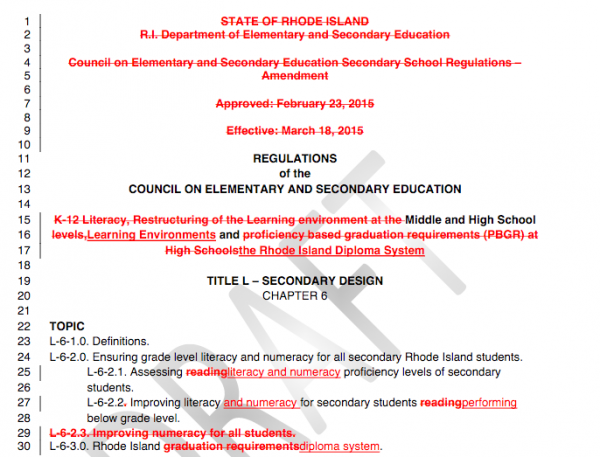 Hopefully many parents, teachers, and concerned RI residents are aware that the RI Council on Elementary and Secondary Education has proposed changes to the high school diploma system. They will host four public hearings in late August and early September, and also are accepting public comment in writing. Here is the link to the draft changes.
The meetings will be held Monday, August 22 at the Cumberland Public Library; Monday, August 29 at the Newport Public Library; Tuesday, September 6 at the Warwick Public Library; and Monday, September 12 at URI's Providence Campus.
In addition to the dates and venues for the public forums, this document says that written comments can be submitted to Sonya Barbosa at Secondary@ride.ri.gov. One week ago, on August 1, I submitted the following email with my questions and concerns. I re-sent them two days later, when I realized that Ms. Barbosa might not have read through to the end of my email and not have realized that I requested a confirmation that my comments had been received and forwarded to the members of the RI Council on Elementary and Secondary Education and the members of the RI Board of Education. It is now August 8, and I still have not received an acknowledgement. Therefore, I am making my concerns public. I hope that this will inspire others to read the proposed changes, consider their impact, and provide a statement in person at a forum and/or in writing. The future of our students is too important to leave to the educrats to decide.
To: Sonya Barbosa, RIDE
Email: Secondary@ride.ri.gov
To the Members of the RI Council on Elementary and Secondary Education, and the Members of the RI Board of Education:

Thank you for the opportunity to express my thoughts on the proposed changes to the graduation requirements. As a retired teacher from the RI School for the Deaf, I have read through the proposed changes and considered how they would affect my former students and students in general across the state. I have several questions and concerns.

• As many of you may know, I have been an outspoken critic of the Common Core State Standards and the PARCC assessments, for many reasons. I was surprised to see on lines 70-73 of the proposed regulations that the definition of Common Core Standards had a strike-through of the entire paragraph. What does this mean, since the PARCC tests are based on the CCSS (and so are the PSAT and SAT), and students in grades 3-9 will still be expected to take the PARCC annually?

• Lines 305-307 state that as of 2017 LEAs may choose to include the state assessment or other standardized assessment as a graduation requirement. How does this mesh with the latest announcements from RIDE that 10th and 11th graders will no longer take the PARCC, and may optionally take the PSAT and SAT? This is purportedly for the purpose of guarding against over-testing.

Some districts have already made participation in the PARCC a graduation requirement as of 2017. Many RI parents and parents across the country have researched the PARCC ELA and Math assessments and decided that it is not is the best interest of their children to participate. Will RIDE accept the situation that students who have fulfilled all other requirements for graduation will not receive a diploma for not taking this flawed test? Will an exemplary student be denied a diploma in 2021 for refusing to participate in the PARCC Algebra 1 test in 8th grade, or the PARCC ELA test in 9th grade? We are soon entering the 2016-2017 school year. There is so much confusion around the diploma requirements across the state. RIDE keeps changing the recommendations, people assume that the RIDE recommendations are state-wide regulations, but districts can still decide otherwise. This situation is untenable.

• The major proposed changes to the current Proficiency Based Graduation Requirements seem to involve the Optional Commissioner's Seal and the Optional Pathway Endorsement. These are alluded to in lines 446-464 as Council Designations. Yet the Commissioner's Seal and Pathway Endorsements are not described in detail in the proposed changes. According to the "Proposal for a Revised Rhode Island Diploma System: Overview and Frequently Asked Questions," developed as of May 20, 2016: http://www.ride.ri.gov/Portals/0/Uploads/Documents/Diploma-System/Regs_FAQs_v%202_5%2020.pdf

"6. Why don't I see a reference to the Commissioner's Seal or Pathway Endorsements in the proposed Secondary Regulations?

"The Commissioner's Seal and Pathway Endorsements would be allowed under the proposed section L-6-3.3, which outlines the criteria for Council Designations. [L-6-3.4 says "Council designations" but does not outline them.] In order to stay current with innovative practices in the field, the proposed Secondary Regulations create the structure for the Council on Elementary and Secondary Education to name, define, and allow the Commissioner's Seal and Pathway Endorsements at a later time than the initial vote on the regulations, and to review and revise these designations as necessary."

It seems quite problematic to leave the specifications of these endorsements to the Council to determine at a later time. Will there be public input?

• Lines 466-479 discuss the alternate recognition of high school accomplishment, defined as a Certificate, which is not considered a high school diploma. It states that students with an IEP and modified proficiency standards [i.e. students who take the alternate assessment] may, at LEA discretion, be awarded a diploma. From my experience teaching at the RI School for the Deaf, students who took the alternate assessment had to meet very stringent criteria, and those criteria included significant cognitive impairment. Very few students at the school were eligible for the alternate assessment. Yet many of the students who had in actuality been successful throughout their academic careers at the school, but whose reading levels were considerably below typical for their grade level, were not eligible for the alternate assessment. Many students have additional learning disabilities, live in families who do not speak English, live in families who do not fluently communicate with them in sign language, and/or live in poverty. These students are capable of post-secondary level work, but might be denied a diploma depending on how the proficiency levels are set.

According to the Frequently Asked Questions mentioned above, the proposed diploma system is intended to be flexible enough to help students with disabilities and any students academically at risk by allowing schools and districts to set the proficiency levels for their students. Yet the schools are to be held accountable for preparing their students for post-secondary education and the workplace.

Who is to decide if the proficiency levels as determined by individual schools are reasonable and fair to all students with varying special needs, when this decision is left to the districts? Will there be comparability of proficiency levels from school to school within a district and between districts?

• At the RI Board of Education meeting on May 17, 2016 Commissioner Wagner discussed the menu of standardized assessments that might be approved for the Commissioner's Seal endorsement. He said that these would be nationally recognized assessments and nationally recognized cut scores. Again, as a retired teacher from the RI School for the Deaf, I am deeply concerned about this. In my many years of experience teaching deaf and hard of hearing middle school and high school students, we had numerous students graduate and go on to post-secondary programs. Many went to Gallaudet (four year liberal arts college for the deaf) or to the National Technical Institute for the Deaf, affiliated with the Rochester Institute of Technology.

These programs for the deaf required the ACT as a college entrance test. However, cognizant that mastery of academic English is a challenge for many students deaf from birth or early childhood, these institutions set the cut scores for entrance considerably below that for non-deaf students entering post-secondary programs. This did not mean that the students had inferior aptitude, but considered their challenges, anticipating the appropriate supports they would be provided at the post-secondary level. Many of our students completed college and went on to satisfying careers. A nationally recognized cut score for the general population is not an appropriate hoop for all students to jump through to be recognized as prepared for college level course work.

At the same Board of Education meeting, the Commissioner explained that RIDE can factor into the districts' accountability system the % of students that earn a Commissioner's Seal or a Pathway Endorsement. If the RI School for the Deaf were to be evaluated by how many students achieve the Commissioner's Seal as currently described, the evaluation would not accurately reflect the quality of the teaching and learning at the school.

• When asked by a Board of Education member at the same Board of Education meeting, "What resources will be provided to districts to accomplish all this? [i.e. the proposed diploma system], the Commissioner's answer was: districts can adjust with advanced notice. The Commissioner is expecting an awful lot from districts if they are to accomplish personalized systems of pathways for every middle school and high school student with no additional resources. I hope that the Council will further consider the impact on districts of such a sweeping overhaul of the diploma system.

Thank you for considering my concerns. I would appreciate an acknowledgement that my concerns have been forwarded to the Members of the Council on Elementary and Secondary Education, and the Members of the Board of Education.

Sincerely,
Sheila Resseger, M.A.
Retired teacher, RI School for the Deaf