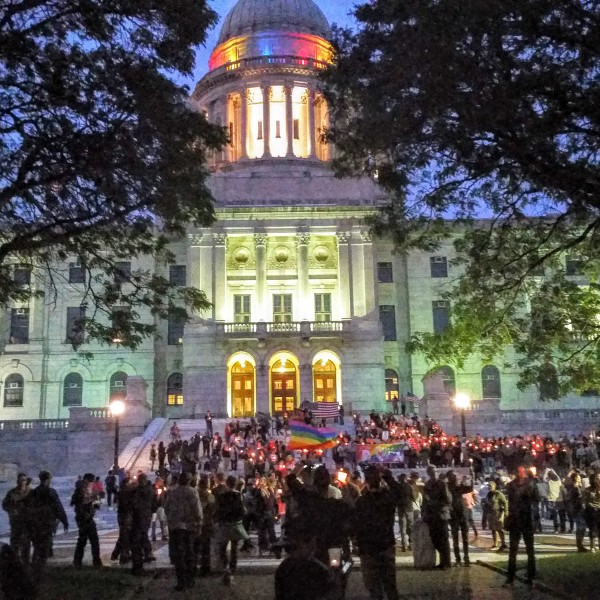 On the steps of the State House, while coming together in solidarity around the terrible tragedy in Orlando at the Pulse nightclub, the LGBTQ community in Providence found itself challenged from within to strive for greater inclusion and a widening of concern for all people, not just the privileged few.
When Joe Wilson, a Trinity Rep actor, took the microphone, he was well received and applauded for his words.
"I am reminded that this movement is composed of many different kinds of people," said Wilson, "And I am moved by the fact that what happened in Orlando happened on a 'Latin night.' Many of the young people in the bar were being outed as a result of being shot at. Being outed as a result of their parents searching for them in both morgues and hospitals. And we have to stop allowing [that] the only way that people of color are being allowed to come out of the closet is after they're being shot and maimed and abused."
Wilson also said, "We have to remind ourselves that this movement, this gay equality movement, can't be a movement exclusively for the privileged… and for my white brethren, I'm going to go there for a moment – It has to be a movement that includes black [and] Latino…
"This movement is about money. This movement is about economic equality. This movement is about jailing folks that don't need to have these sentences for having a bag of weed.
"Our issues go far beyond marriage… The gay rights movement needs an autopsy… How do we include black? How do we include Latin folks? How do we include the transgendered community? How do we speak intelligently about people using bathrooms?"
It was towards the end of the speaking program that Vanessa Flores-Maldonado spoke. She politely interrupted the proceedings and asked permission to speak. Flores-Maldonado talked about her discomfort at the idea of a greater police presence at the Pride event this Saturday, police added due to heightened concerns after the Pulse shooting in Orlando.
"How am I, a queer person of color, a queer woman of color, supposed to feel safe?" Flores-Maldonado asked, "We need to remember that Stonewall happened because trans-women of color had enough of police riots."
Flores-Maldonado was not as well received as Wilson. Had she somehow made a point different from Wilson's? Some in the crowd yelled that Flores-Maldonado should shut up. The organizers of the speaking program seemed concerned about losing control of the crowd. Calling for inclusion was one thing, talking about police violence against LGBTQ persons of color was too much somehow. Mayor Elorza, after all, was standing right there.
Flores-Maldonado's microphone was cut off. Tensions rose. Flores-Maldonado continued to talk to the crowd without a microphone. Her voice, her lived experience was literally being silenced. Organizers attempted to get the speaking program back on track. It was suggested that she bring her concerns to the mayor's office. "The mayor doesn't like me," said Flores-Maldonado.
The crowd began chanting, "Let her speak! Let her speak!"
Eventually, Flores-Maldonado was given back the microphone. She said, "For those of you who were telling me to shut up, and to have the mic taken away from me, you're not listening to what I'm saying. What I am saying is that I do not feel safe in my skin color when there are police around."
Flores-Maldonado was the only woman to speak at the event. Had she not spoken up, no women would have spoken. Her message was no different than Joe Wilson's. But Flores-Maldonado was challenging privilege in the moment, demanding immediate consideration of her concerns.
"Along with marking where we've come we need to mark where we yet need to go," said Wilson towards the end of his speech.
Flores-Maldonado was talking about the now.
At Pulse vigil, RI LGBTQ community confronts intersectionality

,