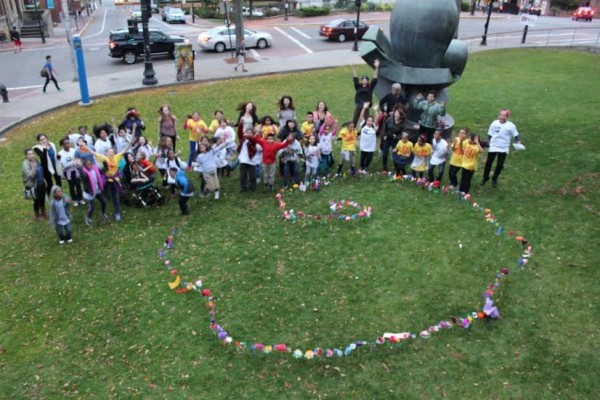 On Friday, November 6th, students from Providence CityArts for Youth visited the Rhode Island School of Design "beach" on Benefit Street where they installed a paper Rose Garden created by CityArts youth and RISD students. This installation was a tribute to Rosanne Somerson's inauguration, and a collaboration between RISD's Teaching + Learning Program and CityArts. It was also a celebration of RISD's new partnership with CityArts. This partnership aims to create a community "studio" where youth, artists, and educators join together and engage diverse communities through service and art-making. Continuing the long history of collaboration between the two entities, this new partnership includes sharing spaces, creating opportunities for RISD students to work and volunteer at CityArts, and promoting a greater footprint for CityArts on the RISD campus.
For more information about partnership and ways to get involved, please visit RISD Serves.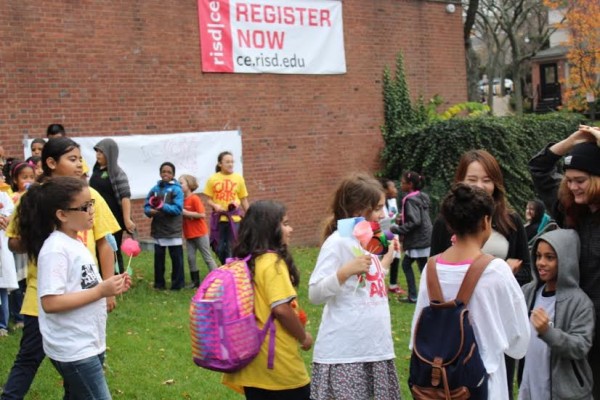 Providence CityArts for Youth is a nonprofit youth arts agency, with a mission based on the ideal that all children should have access to arts learning as an essential part of childhood and youth development regardless of socio-economic background. Over 900 youth enroll in CityArts multidisciplinary arts classes at our South Side arts center on Broad Street, Boys and Girls Club in Fox Point, and in Providence public and charter schools.