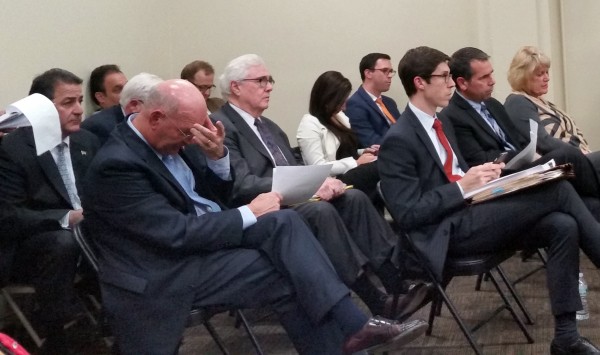 Some of the business suits worn in the Providence City Council Finance Committee meeting last night were worth more than a hotel worker's monthly salary.
The power and pressure being brought to bear, to make sure that The Procaccianti Group (TPG) got their multi-million dollar Tax Stabilization Agreement (TSA) was enough to bend reality, as a five member committee was whittled down to three members and the final vote unanimous in favor of TPG.
City Hall was electric with meetings being conducted behind closed doors. What happened in the Finance Committee room was theater, the real deals were all made out of sight. The Finance Committee meeting seemed meticulously planned so that when it started, it would fall like a string of dominoes in favor of moneyed interests and to the detriment of hotel workers.
At issue was a 13-year TSA for the Fogarty Building site downtown, where TPG wants to build a new nine-story hotel. The building trade unions want the hotel, it will provide a couple years worth of good jobs. The hotel workers want the hotel and the jobs it will provide as well, but they wanted an amendment to the TSA "calling for workers to earn 1 1/2 times the federal poverty rate, or more than $14 an hour."
Good wages for hotel workers are important. TPG is notorious for paying poorly, and the company requires their workers to do much more than workers at competing downtown hotels. Then there's the steady stream of injuries to workers in TPG hotels. Unionization efforts at the Renaissance Hotel have dragged on for years and only recently did the hotel win a vote to unionize. Without the amendment, a new hotel full of underpaid, overworked and at-risk workers will be coming on-line even as Renaissance workers finally realize a fair contract.
On one side of the Finance Committee meeting room was Mayor Elorza's Chief Operating officer, Brett Smiley, RI AFL-CIO leader George Nee, Michael Sabitoni, business manager for the RI Laborers' District Council, state senator Josh Miller, a pile of lawyers and TPG reps, and prominent members of the Providence business community. Council President Luis Aponte stood nearby and monitored the proceedings.
Hotel workers and Unite Here! organizers, vastly outnumbered and outgunned, sat opposite.
Finance Committee Chair John Igliozzi was the city councilor who once suggested tying TSA's to better wages way back in June, 2014. When it came time to amend the TSA, however, he was silent. Councilors Kevin Jackson and Sabina Matos were also silent, save to deliver the lines required to vote the TSA to the full City Council for final approval next month.
Missing from the committee meeting was Councilor Terrance Hassett, whose day job is Senior Investigator in the Workers' Compensation Fraud and Compliance Unit at the Department of Labor and Training. He, like two other members of the finance committee, works for the state. It is well known that Governor Gina Raimondo wants this project to proceed. On background I was told that city council members were afraid of losing their jobs if they interfered with the deal, but nobody wanted to go on record.

(Given this, Providence voters might want to reconsider electing council members with state jobs.)
Hassett was a no show, but Councillor Carmen Castillo, a hotel worker herself, was there. She put her purse and coat down into her chair, then left the room to talk off stage with someone. While she was out of the room the Finance Committee meeting started and attendance was called. She was marked absent.
As the meeting got underway Castillo entered the room, recovered her purse and coat, and left without explanation.
There were three members left of the five member committee, enough for a quorum. As hotel workers looked on, the TSA was passed out of committee without the amendment they had requested. Millions of dollars in tax breaks were given to TPG.

There were smiles and handshakes all around as one half of the room erupted in enthusiastic conversation. Finance chair Igliozzi pounded his gavel for order, there was still the city's contract with Local 1033 to be decided, so $40,000 worth of fine business suits moved outside and into the hallways, and eventually outside into the street.
The hotel workers gathered in a corner on the third floor so that a translator could explain to some of the Spanish speaking members what had happened.
But they understood.
This was government as business and business as usual.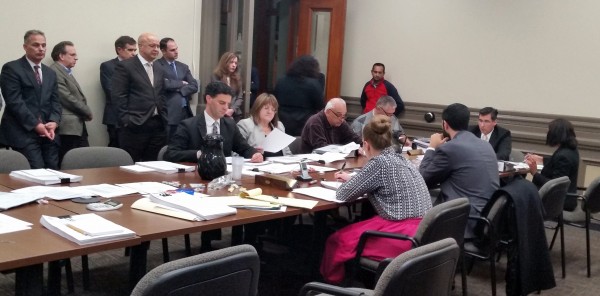 City Council committee passes tax break for hotel at choreographed meeting

,