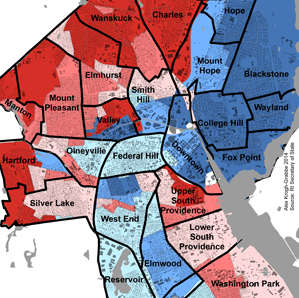 In the 2014 Providence mayoral election, municipal unions broke unanimously for Buddy Cianci, as did the Teamsters and others. When a huge margin from the East Side put Jorge Elorza over the top, Cianci's union supporters immediately called it "class warfare," saying there were two Providences—the East Side and everywhere else.
The data don't support this assertion in general or in the particulars. It would be more accurate to say that the two Providences are the northern and western suburban precincts and everywhere else. But even this is too broad truly to capture the results. Like most things in life, it's complicated.
Who won what by how much?
Alex Krogh-Grabbe, who was an Elorza operative and ran his website, produced this map of precinct level data drawn from the Board of Elections website. This map is different from other maps you might have seen because Mr. Krogh-Grabbe went to the extraordinary effort to hand collate precinct data, which is the only way to render these data into a manipulable format.
(This means he went precinct by precinct, hand copying the results into a spreadsheet or JSON file, then mapping that to precinct boundaries. The heavy lines are not the city's wards but some sort of neighborhood breakdown. Great will be the day that all these data—precinct results, precinct boundaries, ward boundaries, etc.—are available from the city and state in open data standards. Until then…)
This map shows that there are many cities, or more aptly put, one complicated city. Cianci won most strongly in the most northern and western suburbs; Elorza won most strongly east of the Moshassuck River. In between, there is an interesting and complicated patchwork of support, with more of the city breaking for Elorza than for Cianci.
Look, for example, at the Valley. Two precincts that don't just abut but seem to over-cross each other, broke more than 20% for each candidate. Likewise, the Jewelry district and Hospital district abut, but broke strongly in opposite directions.
Cianci clearly has support on the South Side, but Elorza countered in Elmwood, the West End and Reservoir. In a shock to many, Elroza took Federal Hill by a narrow margin.
Class warfare? Not so much.
Those crying "class warfare" need to step back and consider that Providence might be more complicated than they'd like it to be. Consider, for example, that Fox Point broke for Elorza by more than 20 percentage points or that Mt. Hope did the same by more than 10. Olneyville, Reservoir, deep in the West End and the brutal section of Smith Hill between Smith and Orms (my first PVD 'hood) broke for Elorza.  Elorza also won portions of Hartford and Silver Lake. Not one of these neighborhoods fits the profile convenient to the argument that only rich, white people support Elorza.
It could be that the East Side / South Side coalition was a short-lived experiment that won't be repeated. Or it could be that changing demographics and changing attitudes have produced a new electoral equation in the city. Or it could be that Buddy Cianci made a whole lot of people a whole lot of money during his multiple terms in office, and that money trumps pretty much everything.
Whatever happened in this election, I am certain of one thing: it wasn't class warfare.