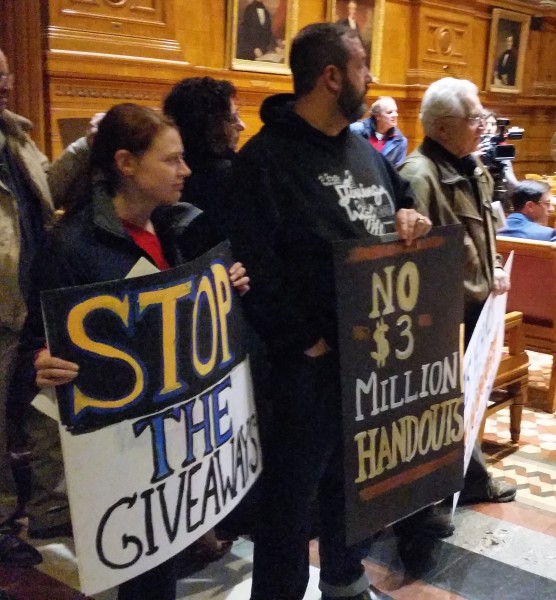 The Providence City Council Finance Committee unanimously rejected the proposed extension of the tax stabilization agreement (TSA) for the property at 100 Fountain St last night.  The meeting, rescheduled after the unexpected death of former Mayor Vincent "Buddy" Cianci last week was on the same night and time as Governor Gina Raimondo's State of the State address, so I had to access the recording of the meeting here.
During the brief discussion, Councillor Carmen Castillo noted that granting this TSA at a time when the City is facing an economic shortfall and planning to raise taxes on homeowners seems wrong.
Councillor Kevin Jackson proposed rejecting the TSA, pointing out that the agreement was granted to improve the condition of inactive buildings and not intended to be a lifetime grant.
Finance Chair John J. Igliozzi condemned the extension, saying, "The contract has been fulfilled. It's become a high income subsidy."
City Council President Luis Aponte, who is not on the Finance Committee, addressed the room, and said, "It's the right signal that the [Finance] Committee is sending to the public and to the [City] Council."
"Most tax treaties that have been approved in Providence have been beneficial to local development and have improved both new businesses and encouraged new housing," said City Councillor Terrence M. Hassett in a statement, "However, the agreements have a shelf life and eventually expire. Extending them for a longer period, places other taxpayers in the position of paying more and that is coming to an end."
The proposed TSA would have allowed the property owners to pay only 25 percent of their assessed taxes in the first year, with a 15 percent increase each year thereafter until year five, when the owners would have paid 95 percent of their assessed taxes. The owners stood to save hundreds of thousands of dollars, but as the STEP Coalition (Stop Tax Evasion in Providence) has pointed out, "[t]he construction jobs are long gone and these buildings have been occupied for quite some time."
Mayor Jorge Elorza supported these tax deals, despite his earlier campaign promises to not give out TSAs "unless Providence could profit from the deal in some way."
Sam Bell, a member of the STEP coalition who is also the executive director of the Rhode Island Progressive Democrats of America, said, "This was a huge win for Providence taxpayers!  It shows that, when we work hard, we can defeat the most powerful corporate interests in the City of Providence."
The Finance Committee still has to decide on three other, similar TSAs in the near future.
PVD City Council Finance rejects first of four proposed tax giveaways

,